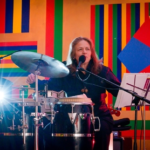 Annette A Aguilar is a Nicaraguan-American percussionist, bandleader, and educator. Originally from San Francisco's Mission District, Annette Aguilar, formed her Latin and Brazilian Jazz group, Annette A. Aguilar & StringBeans in 1992 inspired by her mentors Mongo Santamaria and Ray Barreto. Selected three times as Latin Jazz Ambassadors by the U.S. State Department in affiliation with the Kennedy Center and Jazz at Lincoln Center, the group has toured South Africa, Rwanda, Ethiopia, Kenya, Tanzania, and Madagascar (where they performed for the president), sharing their knowledge of music from the Americas and the Caribbean. In 2015, Aguilar was honored in a large mural honoring Latin Jazz musicians from San Francisco and veteran broadcaster Chata Gutierrez in the historic Mission District on 24th Street and South Van Ness.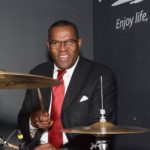 Dwayne "Cook" Broadnax was born in Philadelphia but now lives in Brooklyn, New York where he teaches Trap Drum Set Concepts at the Brooklyn campus of Long Island University. He received his B.A. in jazz performance from Berklee College of Music in Boston. Cook was the drummer for the late great jazz vocalist Little Jimmy Scott for 14 years up until his death in 2014. He has also played with Kevin Eubanks, Johnny Copeland, Savion Glover, Eartha Kitt, Rachell Ferrell and saxophonist Illinois Jaquet. Mr. Broadnax has recorded with actress/model/singer Vanessa Williams, Jimmy Scott, Vanessa Rubin and Grammy Award winner Johnny Copeland. Mr. Broadnax performed in the blockbuster-hit Spike Lee movie Malcolm X and recently appeared on the hit television show Madam Secretary on CBS. Drummer for Concord church for over ten years, his self produced debut CD is entitled Finally Mine.  Cook is the proud father of 2 children.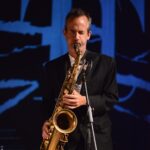 Chris Byars is an award-winning saxophonist, bandleader, arranger/composer, conductor, and educator based in New York City. He has been performing festivals, concerts, educational workshops, and jazz clubs since 1987. His 15th commercially-released CD as a leader, On the Shoulders of Giants, was released in March 2020. 
Pianist Zaccai Curtis has performed with Donald Harrison, Cindy Blackman Santana, Eddie Palmieri, Christian Scott, Ralph Peterson, T.K. Blue, Brian Lynch, Ray Vega and Eric Person, among others. He won the ASCAP Young Jazz Composer's Competition in 2003 and each year consecutively through 2006.  
Dancer/Choreographer Mickey Davidson won an Audelco award for choreography of "For Colored Girls Who Considered Suicide When the Rainbow Is Enuf" directed by Ntozake Shange. She joined Dianne McIntyre's groundbreaking "Sounds In Motion" in 1975 and danced with the company for eight years. She has worked closely with jazz artists Sun Ra, Cecil Taylor, the World Saxophone Quartet and was mentored by original Savoy Ballroom dancers Frankie Manning and Norma Miller. A beloved New York veteran of arts education, Ms. Davidson has an extensive background in African American dance styles and led the African American Dance program at Wesleyan University for 17 years. In addition to teaching with Jazz Power Initiative, she teaches at the Louis Armstrong Jazz Camp in New Orleans and is a passionate advocate for making the authentic jazz dance traditions available to the next generation.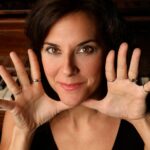 Nicki Denner, pianist, has worked with Sheila E., Savion Glover, Doc Severinsen, KJ Denhert and Michelle Shocked. She leads her own trio and is the music director of the renowned Latin band Cocomama. 
Shireen Dickson is the director of OKRA Dance Company, which presents interactive African and American diasporic dance and world rhythmic learning experiences in schools, libraries, museums and festivals throughout the US. She spent 10 years performing with and assisting award-winning choreographer Dianne McIntyre at renowned performance venues, dance and jazz festivals throughout the country. Dickson was the founding Community Engagement Director for both Elizabeth Streb's SLAM and Dance Parade, Inc., and currently develops arts curricula, and facilitates teacher trainings and professional development programs infused with American social, cultural and activism practices for a range of organizations.  Shireen is a founding executive board member of the Collegium for African Diaspora Dance based at Duke University, and a 2019 Women of Color in the Arts fellow.  Shireen has been involved with Jazz Power Initiative as choreographer since 1999 and served for two years as president of the Board.

Guitarist Bruce Edwards has performed with artists such as Sun Ra, James Carter, Freddy Cole, and Cecil Taylor, to name a few. Called "A master of his instrument" by John Kelman of All About Jazz, in addition to performing, Bruce has composed and produced music for films and TV, winning a Telly Award for his original music and sound design in 2006.  
Karen Joseph, born in Brooklyn, NY, received her Bachelor's Degree from the Philadelphia Musical Academy. As a flutist, she has performed with the who's who of Latin music including: La Charanga '76, Los Jovenes del Barrio, Eddie Palmieri, Charlie Rodríguez's Conjunto featuring Johnny Pacheco and Pete "El Conde" Rodríguez, and Hansel y Raul with the legendary Israel 'Cachao' Lopez. Her recording credits include Richard 'Groove' Holmes, Grant Greene, Cornell Dupree, Charanga '76, Kid Creole and the Coconuts and the Fania All Stars. 

Bassist Gerardo "Jerry" Madera is the son of the famed musical arranger and saxophonist Jose "Pin" Madera for the Machito Orchestra, and brother of great Latin music arranger, Jose Madera. He has performed and recorded with include Johnny Pacheco, Tito Puente, Eddie Palmieri, Richie Ray and Bobby Cruz, Tipica 73, Joe Cuba, Hector Lavoe, The Mambo Legends Orchestra, Jose Alberto "El Canario", Adalberto Santiago, El Cano Estremera and Alfredo De La Fe. .

Steven Oquendo, a Dominican Washington Heights native, is a trumpeter, composer, arranger, educator and leader of The Steven Oquendo Latin Jazz Orchestra (SOLJO), a 19-piece big band captivating audiences with its unique combination of modern jazz and palladium era Afro Cuban, Latin Jazz, salsa, and mambo classics. He is Associate Conductor of the first New York All-City Latin Jazz Ensemble as well as Music Director at Pelham Preparatory Academy in the Bronx. Mentored by trumpet stars Jon Faddis and Wynton Marsalis, Oquendo has toured internationally and recorded and/or performed with a wide range of artists including: Celia Cruz, Ruben Blades, Eddie Palmieri, Juan Luis Guerra, Arturo Sandoval, The Machito Orchestra, The Tito Rodriguez Orchestra, Milly Quezada, La India, and Ray Santos.  
Frank Owens, pianist, arranger, musical director, producer and composer. His career spans across genres of the music spectrum. A virtuoso pianist, trained in the European classics, he can shift gears at a moment's notice to paint a Brazilian or Japanese landscape. Frank Owens has accompanied or toured with, as Musical Director (MD) or Arranger, Lena Horne, Johnny Mathis, Chubby Checker, Petula Clark, Johnny Nash, Lesley Gore, Keith David, Ann Duquesnay Melba Moore and many others. His additional MD credits include television, film and Broadway. Frank Owens' reputation as a studio musician, earlier in his career, is unprecedented. Currently, you may catch him on an evening when he hosts "Open Mic," with Jazz Patron Cobi Narita.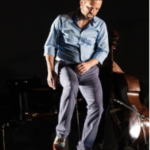 Max Pollak represents Europe on the new US Postal stamp series honoring American Tap Dance. Pollak's innovative tap dance style merges percussive dance and singing with Afro-Cuban grooves, body percussion, and his native Austrian folk music. A New York City resident of many years, his band RumbaTap, performs throughout the United States, Canada, Japan, Brazil, Cuba, Turkey, and Western Europe. A choreographer, educator, composer, and cultural consultant, Pollak is the co-creator of the off-Broadway hit show Carmen, to Havana and Back, which celebrates the creativity and artistic sensibility of Cuba, the country that continues to be a driving inspiration in his work. Pollak's CD RumbaTap was released in 2015 and he is currently working on a book and CD for children.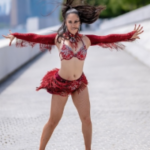 Ximena Salgado is co-founder and Artistic Director of Rumbamena, dedicated to celebrating and honoring Latin rhythms and values such as joy, freedom, empathy and resilience through dance education and performance. Originally from Peru where she earned the title of National Salsa Champion soloist in 2015, Ximena's theatrical experience includes performing in Lin-Manuel Miranda's "In the Heights" US Spanish Premiere at Gala Hispanic Theatre in Washington DC. She also performed at Madison Square Garden with Tito Puente Jr.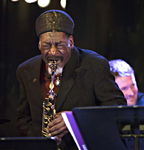 Knoel Scott, baritone and alto saxophonist, and composer currently works both sides of the Atlantic with frequent Sun Ra Arkestra tours alternating with his own Knoel Scott Quartet ("KSQ") which has become known as a 'must-see' by audiences of London. Once known as "King Tut of Harlem," Knoel often worked at Harlem's Showman's Cafe, Smalls' Paradise, Red Rooster, Lickety Split, and La Famille during an era when jazz was played until sunrise. Important Harlem associations include Selena Clarke, Freddie Drew, Nat Willliams, Jack McDuff, Don Pullen, and John Hicks. Other collaborators range from Olu Dara, Bobby Forrester, Larry '88 keys' Keyes, Andy Razaf, Jimmy 'Preacher' Robbins, Charles Earland to Tommy Turrentine, Jerry Gonzalez, and Leon Thomas. Knoel Scott has been a member of the world-famous Sun Ra Arkestra since 1988, usually playing alto sax but occasionally tenor or his native baritone. Sun Ra encouraged Knoel to dance and sing, and his Ra-inspired versatility and agility continue to enthrall audiences. 
Alberto Toro is a flutist, saxophonist, composer and arranger from Puerto Rico. He has worked with Bobby Sanabria; Los Pleneros de la 21; Arturo Ortiz y Siete Con Calle; Candido Camero; Luis "Perico" Ortiz Big Band; Steven Oquendo Latin Jazz Orchestra, Andy Montañez; Charlie Aponte; Ismael Miranda; Roberto Roena; and the Spanish Harlem Orchestra under the direction of Oscar Hernández. In 2018, he received New York City's prestigious Big Apple Teacher Award for his outstanding dedication and stellar work teaching band for the past 23 years.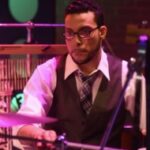 Wilson Torres is a Dominican American percussionist who grew up in Washington Heights NYC and graduated from Manhattan School of Music. Wilson performed In The Heights on Broadway by Inwood's own Lin-Manuel Miranda and will appear in the upcoming film adaptation. 
Eddie Venegas is a violinist and trombonist originally from Venezuela who toured for many years with salsa star Marc Anthony. He is a founding member of  Los Hacheros and has also performed with Orquesta Broadway, Pedrito Martinez, Don Omar, and Sonia de Los Santos. 
Bassist and cellist, Jennifer Vincent has been an active force on the jazz and Latin scenes in NYC for the past two decades. She plays, tours, and records with the likes of the Duke Ellington Orchestra, Betty Carter, Abbey Lincoln, KD Lang, Fantasia, Vanessa Williams, Patti Labelle and the collective, Cocomama. She had the good fortune to study at the New School with jazz and Latin jazz legends Ron Carter, Buster Williams, and Andy Gonzales. In 2001, she traveled to Cuba to study with Orlando "Cachaito" Lopez, bassist of the beloved Buena Vista Social Club. Jennifer is the bassist of Wynton Marsalis' Jazz At Lincoln Center All-Stars that was featured in the hit musical revue "After Midnight" on Broadway.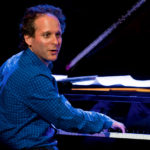 Eli Yamin is a pianist, composer, singer, author and educator, and the co-founder and Managing Artistic Director of Jazz Power Initiative, an NYC community-based non-profit that transforms lives through jazz arts education and performance. He has released eight CD's featuring his compositions, published three youth-centered jazz musicals in four languages and performed at The White House, Carnegie Hall, Lincoln Center, and over 20 countries as a cultural ambassador for the U.S. Department of State. Rooted in the belief that the blues heals, Eli wrote a book, So You Want to Sing the Blues, published by Rowman and Littlefield and the National Association of Teachers of Singing (NATS). He produced radio for WBGO/Jazz 88 and Sirius XM, holds a Master's in Music Education from Lehman College (CUNY), and is currently working towards his Doctor of Musical Arts (DMA) in jazz piano at Stony Brook University (SUNY).