SWING INTO SPRING
Celebrate the Experience of Improvisation featuring dancers Mickey Davidson, Shireen Dickson, Ximena Salgado and Max Pollak
Intergenerational

Jazz

Power

Jam

will stream live on Sunday, March 14th at 3pm from Upper Manhattan.
New York City, March 2, 2021 – Jazz Power Initiative (JPI) continues its 2021 season of INTERGENERATIONAL JAZZ POWER JAM on Sunday, March 14, 2021 at 3 PM EST on Facebook Live and YouTube, in collaboration with The National Jazz Museum in Harlem, with "Swinging Into Spring Dance Jam," showcasing the art of improvisation and featuring acclaimed dancers and choreographers Mickey Davidson, Shireen Dickson, Ximena Salgado, and Max Pollak. Audiences of all ages are invited to participate!
Tune in through Facebook and YouTube Live at jazzpower.org/powerjam2021 at 3 PM EST. 
Hosted by Jazz Power Initiative's Managing and Artistic Director Eli Yamin, March's Intergenerational Jazz Power Dance Party Jam is a fun, friendly-family celebration featuring performances by the duos of dancer Mickey Davidson and pianist Frank Owens; dancer Ximena Salgado and percussionist Annette A. Aguilar; dancer Max Pollak and bassist Jennifer Vincent; dancer Shireen Dickson and pianist Eli Yamin.
Celebrating the creative, improvisational experience between diverse musical and dance traditions of the African diaspora, these intergenerational performances reflect its wide range and vitality across the Americas today, from swing and tap to mambo and merengue, with insightful conversation about how music is made for dance.
For our audiences of all ages:
Help us showcase your moves at March's Intergenerational Jazz Power Dance Jam!
Dancer, musicians, singers, and poets are invited to participate in our jam dance party by submitting a video from 10 seconds, to up to 3 minutes here, to highlight.
This month's theme: IMPROVISATION.
Supporters: New York City Council and Council Member Ydanis Rodriguez; the Hispanic Federation; The Miranda Family Fund; The Upper Manhattan Empowerment Zone; The New York City Department of Cultural Affairs; Lower Manhattan Cultural Council; New York State Council for the Arts; The National Jazz Museum in Harlem; The Louis Armstrong Educational Foundation; Manhattan Borough President Gale Brewer; and Jazz Power Initiative individual supporters.
Dancer/Choreographer Mickey Davidson won an Audelco award for choreography of "For Colored Girls Who Considered Suicide When the Rainbow Is Enuf" directed by Ntozake Shange. She joined Dianne McIntyre's groundbreaking "Sounds In Motion" in 1975 and danced with the company for eight years. She has worked closely with jazz artists Sun Ra, Cecil Taylor, the World Saxophone Quartet and was mentored by original Savoy Ballroom dancers Frankie Manning and Norma Miller. A beloved New York veteran of arts education, Ms. Davidson has an extensive background in African American dance styles and led the African American Dance program at Wesleyan University for 17 years. In addition to teaching with Jazz Power Initiative, she teaches at the Louis Armstrong Jazz Camp in New Orleans and is a passionate advocate for making the authentic jazz dance traditions available to the next generation.
Shireen Dickson is the director of OKRA Dance Company, which presents interactive African and American diasporic dance and world rhythmic learning experiences in schools, libraries, museums and festivals throughout the US. She spent 10 years performing with and assisting award-winning choreographer Dianne McIntyre at renowned performance venues, dance and jazz festivals throughout the country. Dickson was the founding Community Engagement Director for both Elizabeth Streb's SLAM and Dance Parade, Inc., and currently develops arts curricula, and facilitates teacher trainings and professional development programs infused with American social, cultural and activism practices for a range of organizations. Shireen is a founding executive board member of the Collegium for African Diaspora Dance based at Duke University, and a 2019 Women of Color in the Arts fellow. Shireen has been involved with Jazz Power Initiative as choreographer since 1999 and served for two years as president of the Board.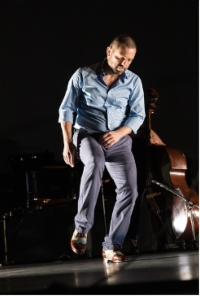 Max Pollak represents Europe on the new US Postal stamp series honoring American Tap Dance. Pollak's innovative tap dance style merges percussive dance and singing with Afro-Cuban grooves, body percussion, and his native Austrian folk music. A New York City resident of many years, his band RumbaTap, performs throughout the United States, Canada, Japan, Brazil, Cuba, Turkey, and Western Europe. A choreographer, educator, composer, and cultural consultant, Pollak is the co-creator of the off-Broadway hit show Carmen, to Havana and Back, which celebrates the creativity and artistic sensibility of Cuba, the country that continues to be a driving inspiration in his work. Pollak's CD RumbaTap was released in 2015 and he is currently working on a book and CD for children.
Ximena Salgado is co-founder and Artistic Director of Rumbamena, dedicated to celebrating and honoring Latin rhythms and values such as joy, freedom, empathy and resilience through dance education and performance. Originally from Peru where she earned the title of National Salsa Champion soloist in 2015, Ximena's theatrical experience includes performing in Lin-Manuel Miranda's "In the Heights" US Spanish Premiere at Gala Hispanic Theatre in Washington DC. She also performed at Madison Square Garden with Tito Puente Jr.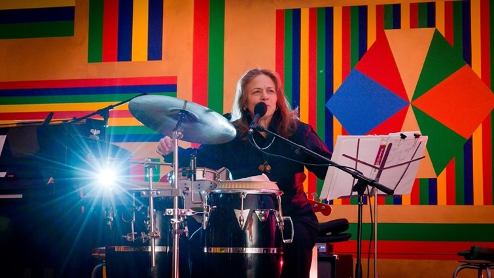 Annette A. Aguilar is a Nicaraguan-American percussionist, bandleader, and educator. Originally from San Francisco's Mission District, Annette Aguilar, formed her Latin and Brazilian Jazz group, Annette A. Aguilar & StringBeans in 1992 inspired by her mentors Mongo Santamaria and Ray Barreto. Selected three times as Latin Jazz Ambassadors by the U.S. State Department in affiliation with the Kennedy Center and Jazz at Lincoln Center, the group has toured South Africa, Rwanda, Ethiopia, Kenya, Tanzania, and Madagascar (where they performed for the president), sharing their knowledge of music from the Americas and the Caribbean. In 2015, Aguilar was honored in a large mural honoring Latin Jazz musicians from San Francisco and veteran broadcaster Chata Gutierrez in the historic Mission District on 24th Street and South Van Ness.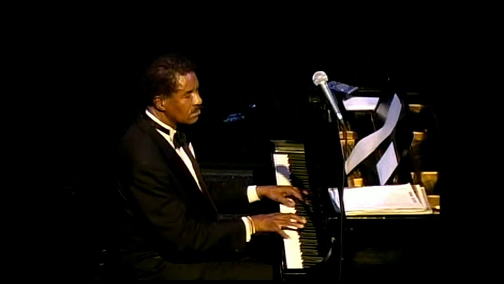 Frank Owens, pianist, arranger, musical director, producer and composer. His career spans across genres of the music spectrum. A true professional and quite often dubbed as "the perfectionist," Frank Owens is an authority on Erroll Garner, and the late Eubie Blake, with whom he briefly studied. His first gig included playing piano for Amateur Night at the Apollo, in Harlem. If Frank Owens played for you as a singer in those days, you were sure to win that night…or at the very least, you would be asked to return the following week. Eventually, in the 90s, Frank served as Musical Director for the televised version of "Showtime at the Apollo." A virtuoso pianist, trained in the European classics, he can shift gears at a moment's notice to paint a Brazilian or Japanese landscape. Frank Owens has accompanied or toured with, as Musical Director (MD) or Arranger, Lena Horne, Johnny Mathis, Chubby Checker, Petula Clark, Johnny Nash, Lesley Gore, Keith David, Ann Duquesnay Melba Moore and many others. His additional MD credits include television, film and Broadway. Frank Owens' reputation as a studio musician, earlier in his career, is unprecedented. Currently, you may catch him on an evening when he hosts "Open Mic," with Jazz Patron Cobi Narita.
Bassist and cellist, Jennifer Vincent has been an active force on the jazz and Latin scenes in NYC for the past two decades. She plays, tours, and records with the likes of the Duke Ellington Orchestra, Betty Carter, Abbey Lincoln, KD Lang, Fantasia, Vanessa Williams, Patti Labelle and the collective, Cocomama. She had the good fortune to study at the New School with jazz and Latin jazz legends Ron Carter, Buster Williams, and Andy Gonzales. In 2001, she traveled to Cuba to study with Orlando "Cachaito" Lopez, bassist of the beloved Buena Vista Social Club. Jennifer is the bassist of Wynton Marsalis' Jazz At Lincoln Center All-Stars that was featured in the hit musical revue "After Midnight" on Broadway.
Eli Yamin is a pianist, composer, singer, author and educator, and the co-founder and Managing Artistic Director of Jazz Power Initiative, an NYC community-based non-profit that transforms lives through jazz arts education and performance. He has released eight CD's featuring his compositions, published three youth-centered jazz musicals in four languages and performed at The White House, Carnegie Hall, Lincoln Center, and over 20 countries as a cultural ambassador for the U.S. Department of State. Rooted in the belief that the blues heals, Eli wrote a book, So You Want to Sing the Blues, published by Rowman and Littlefield and the National Association of Teachers of Singing (NATS). He produced radio for WBGO/Jazz 88 and Sirius XM, holds a Master's in Music Education from Lehman College (CUNY), and is currently working towards his Doctor of Musical Arts (DMA) in jazz piano at Stony Brook University (SUNY).
About Jazz Power Initiative
Jazz Power Initiative (JPI) is a non-profit, 501 (c) (3) organization founded in 2003. Jazz Power serves over 3100 New Yorkers and visitors annually – students, teachers, artists, seniors and general audiences, ages 8-80+, to promote youth development, and build more creative and inclusive communities through jazz music, theater and dance education and performance. Led by highly experienced teaching artists who are award-winning jazz, theater and dance professionals, JPI offers multidisciplinary training, scholarships and performance opportunities to New York City youth, ages 8-22, from every economic and social milieu at low or no cost to families, with extended outreach to students in under-served New York City public schools in Northern Manhattan. We currently engage hundreds of students and their teachers annually, providing after-school instruction mainly in Harlem, Washington Heights and Inwood (where our offices are located) and the Bronx. Our programs include after-school youth workshops at the United Palace; our monthly Intergenerational Jazz Power Jam at the National Jazz Museum in Harlem; local community senior center workshops, and our annual Jazz Power Summer Institute at Lehman College (CUNY) for artists and educators.
About The National Jazz Museum in Harlem
The National Jazz Museum in Harlem is a thriving center for jazz that stimulates hearts and minds, and reaches out to diverse audiences to enjoy this quintessential American music. The Museum is committed to keeping jazz present and exciting in the lives of a broad range of audiences — young and old, novice and scholar, artist and patron, enthusiast and curious listener. Each year, the Museum produces and presents nearly 100 free programs in New York City, engages hundreds of professional jazz artists and reaches nearly 20,000 people from around the world.
Media Contact:
Name: Janny Gonzalez
Title: Director of Business Affairs
Phone: (917) 818-1759
Email address: email hidden; JavaScript is required