By popular demand, Latin Jazz PowerON will be streaming this Saturday, May 9th at 12 pm
from Eli Yamin, JPI Managing Artistic Director
Greetings!
It sure was a gas hosting Latin Jazz Power ON from my living room and we are excited to stream it again this Saturday from 12-2 PM on Jazz Power Initiative Facebook and YouTube pages. Please mark your calendar and tell your friends far and wide and let's keep Latin Jazz Power ON!
Thank you for your support.
Sincerely,
Eli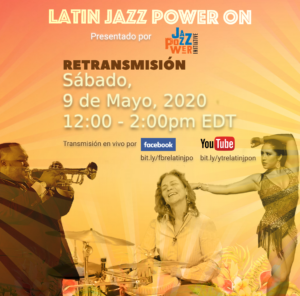 @JazzPowerON YOUTH
Savannah Jones started her Jazz Power Youth journey in 2017 at our Spring training. Once very shy but curious child, Jazz Power is helping her develop her creative voice. Savanna writes:
"I am so happy to be a part of Jazz Power. This program has allowed me to not only learn about the history of Jazz, great legends, and their contributions, but it has allowed me to develop a greater appreciation for Jazz. So far I have learned how to breathe, control my different registers, and to improvise movement. I can see and feel how it all comes together." Savannah Jones, JPI Youth
In this video, JPI teaching artist Victoria Ortiz leads a group voice lesson where Savannah shares her version of the first verse of "Backwater Blues" by Bessie Smith. Enjoy!
@JazzPowerON INTERGENERATIONAL JAZZ JAM
Bob Stewart is known throughout the world for reinventing what is possible playing bass in a jazz band on TUBA. In this performance for Mothers' Day he performs his composition "Tunk", inspired by Thelonious Monk and featuring his son, virtuoso violinist Curtis Stewart, with the JPI band of drummer Dwayne "Cook" Broadnax, and pianist Eli Yamin. Produced by JPI.
@JazzPowerON INSPIRATION
Join us for another week of Cab Calloway INSPIRATION. Watch him and his orchestra perform "Jumpin Jive" alongside renowned tap dancers The Nicholas Brothers, in an outstanding performance that was praised by dancer Fred Astaire as"the greatest dancing he had ever seen on film."
Family Resources
Our community partner, People's Theatre Project, have been gathering resources for families. Please see this document for a list of mental health services and check back for ongoing updates.
Artists Resources
Our artist relief resources article is available and updated for your convenience. If you have any questions, please contact email hidden; JavaScript is required.