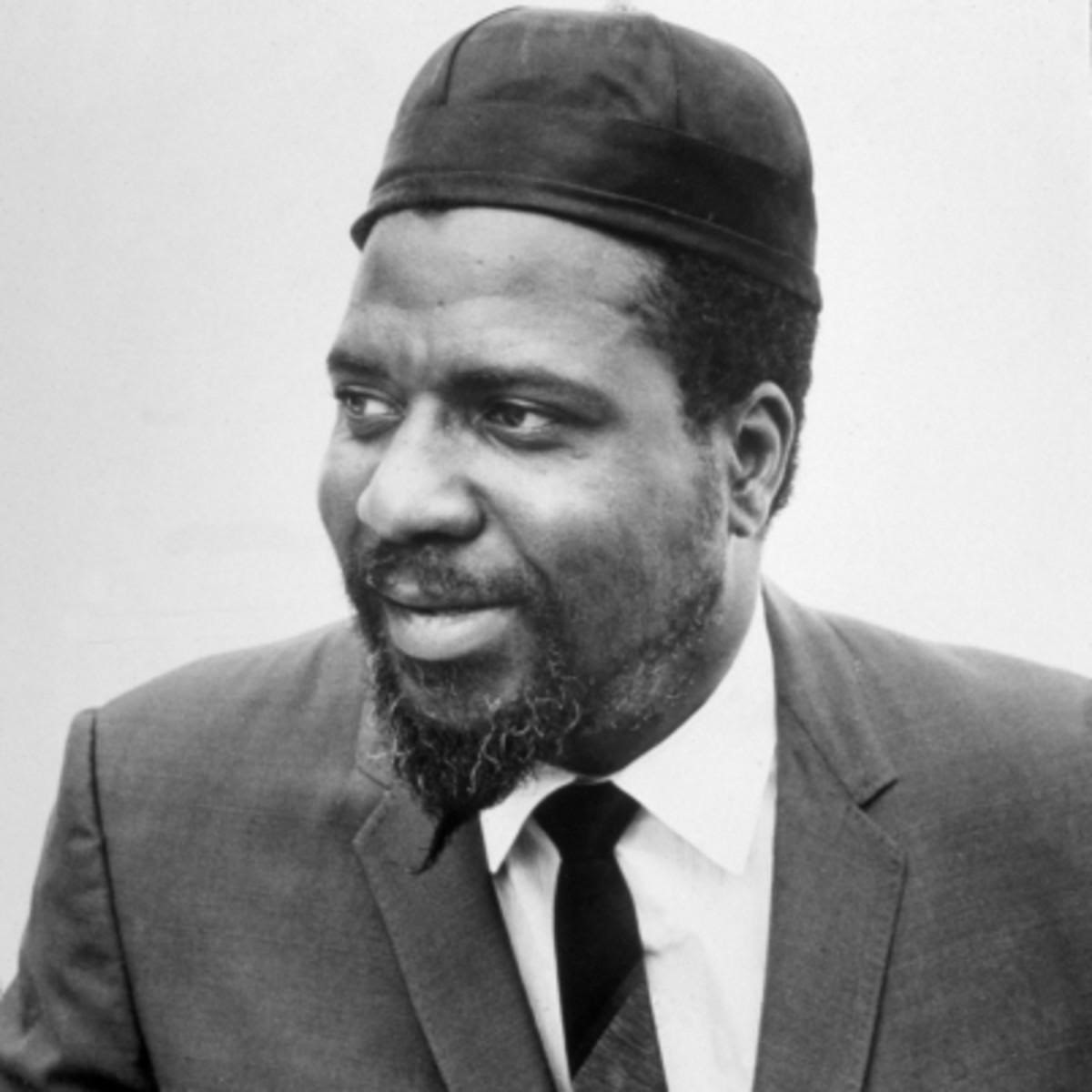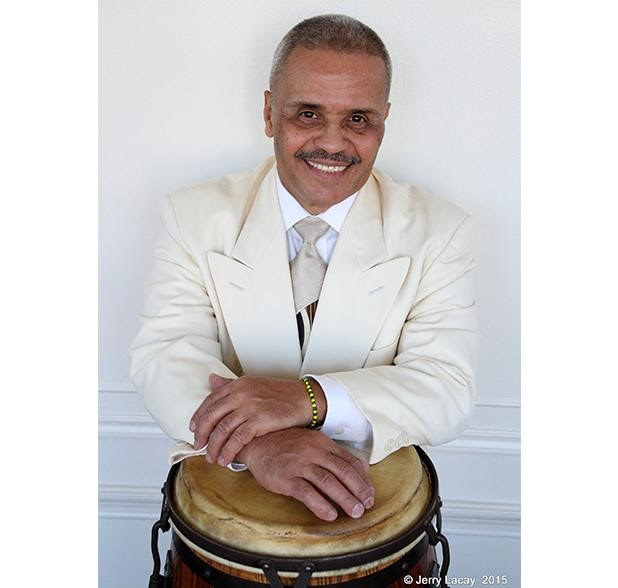 Intergenerational Jazz Power Jam will take place on Sunday, October 10, 2021 at 2pm at The National Jazz Museum in Harlem
New York City, September 20, 2021 – Next month we celebrate the birthday of iconic composer and pianist Thelonious Monk! Our INTERGENERATIONAL JAZZ POWER JAM series continues live in-person on Sunday, October 10, 2021 at 2 PM EST. Presented by The National Jazz Museum in Harlem, "Celebrating Thelonious Monk's Birthday with Chembo Corniel's Afro Blue Monk Project" is our October jam, featuring bandleader and percussionist, Chembo Corniel.
Due to covid-19 restrictions, seating at the museum is very limited but you can tune in through Facebook and YouTube Live at jazzpower.org/powerjam2021 Sunday, October 10, 2021 at 2 PM EST.
Produced by Jazz Power Initiative, the uptown New York City based non-profit organization transforming lives through jazz arts education and community programs, our October Intergenerational Jazz Power Jam features The Afro Blue Monk Project, known for their Afro Caribbean rhythms and harmonies that convey the foundational essence of Latin jazz, in a fun, family-friendly celebration featuring performances by Chembo Corniel (Band Leader/ Percussion), Carlos Cuevas (Piano), Joel E. Mateo (Drums), Ian Stewart (Electric Bass), Hery Paz (Tenor Sax/Flute) and surprise guests.
"Thelonious Monk's music is filled with Caribbean influences, rooted in the west side NYC neighborhood he was raised in, San Juan Hill. Celebrated band leader, recording artist and conguero Chembo Corniel brings an inspired take on the Monk-Caribbean connection – and mixes it with the music of Mongo Santamaria, the Afro Cuban composer of Afro Blue and other classics. We are so excited to celebrate Monk with his extraordinary musicianship." – Eli Yamin
INTERGENERATIONAL JAZZ POWER JAM is presented by The National Jazz Museum in Harlem and produced by Jazz Power Initiative, a Northern Manhattan community arts non-profit organization for jazz music education and performance. We thank all of our supporters: The New York State Council for the Arts; The New York City Department of Cultural Affairs; the New York City Council and Council Member Ydanis Rodriguez; The Miranda Family Fund; The Louis Armstrong Educational Foundation, and our individual donors.
About the artist:
Chembo Corniel – Band Leader/ Percussion: Grammy Nominated Percussionist Wilson "Chembo" Corniel, Jr. has toured and recorded with Tito Puente, Machito, Celia Cruz, Chucho Valdes, Larry Harlow, Grady Tate, Toshiko Akiyoshi, Hilton Ruiz, Dave Valentin, Willie Colon, Angela Bofill, Steve Wilson, Ray Vega, Buddy Montgomery, Chico Freeman and many more. Since 2001, Chembo has been leading his own Latin Jazz quintet and recording for his own record label "Chemboro Records, Inc." Chembo landed a Grammy nomination for Best Latin Jazz Album 2010 for his CD "Things I Wanted To Do." His fifth and latest CD "Land Of The Descendants" features guests Kat Gang (vocals) and James Zollar (trumpet). Chembo Corniel studied at The Harbor Conservatory for the Performing Arts in New York City, Pastore Music in New Jersey, and also attended La Escuela National de Arte (ENA) in Havana, Cuba in 1997 and 1999 under the direction of Chucho Valdez. Chembo was a member of the faculty at Purchase College and teaches percussion privately. Mr. Corniel had been endorsing Latin Percussion (LP) products since 1982; he also endorses REMO Heads, Vic Firth Sticks and Sabian Cymbals.
Carlos Cuevas – Piano: Born in England and raised in Venezuela, Carlos Cuevas has been enjoying a successful music career for 30 years. His experience as pianist, keyboardist, composer, and arranger has allowed him to explore virtually every avenue of the music scene on-stage and in the recording studio worldwide. His versatility has put him to work with NEA Jazz Master Hubert Laws, Ronnie Laws, Bette Midler, Engelbert Humperdinck, Nestor Torres, The Los Angeles Symphonic Jazz Orchestra, and New York's Philharmonic Orchestra of the Americas, José José, Gloria Trevi, Alejandro Fernandez, and Julio Iglesias. Cuevas has composed and arranged music for a wide variety of styles and ensembles that range anywhere from small group to big band and symphony orchestra. He holds a Bachelor of Music from the University of North Texas and a Master of Music from The Aaron Copland School of Music at Queens College, The City University of New York, where he became the recipient of the prestigious Sir Roland Hanna Memorial Jazz Award.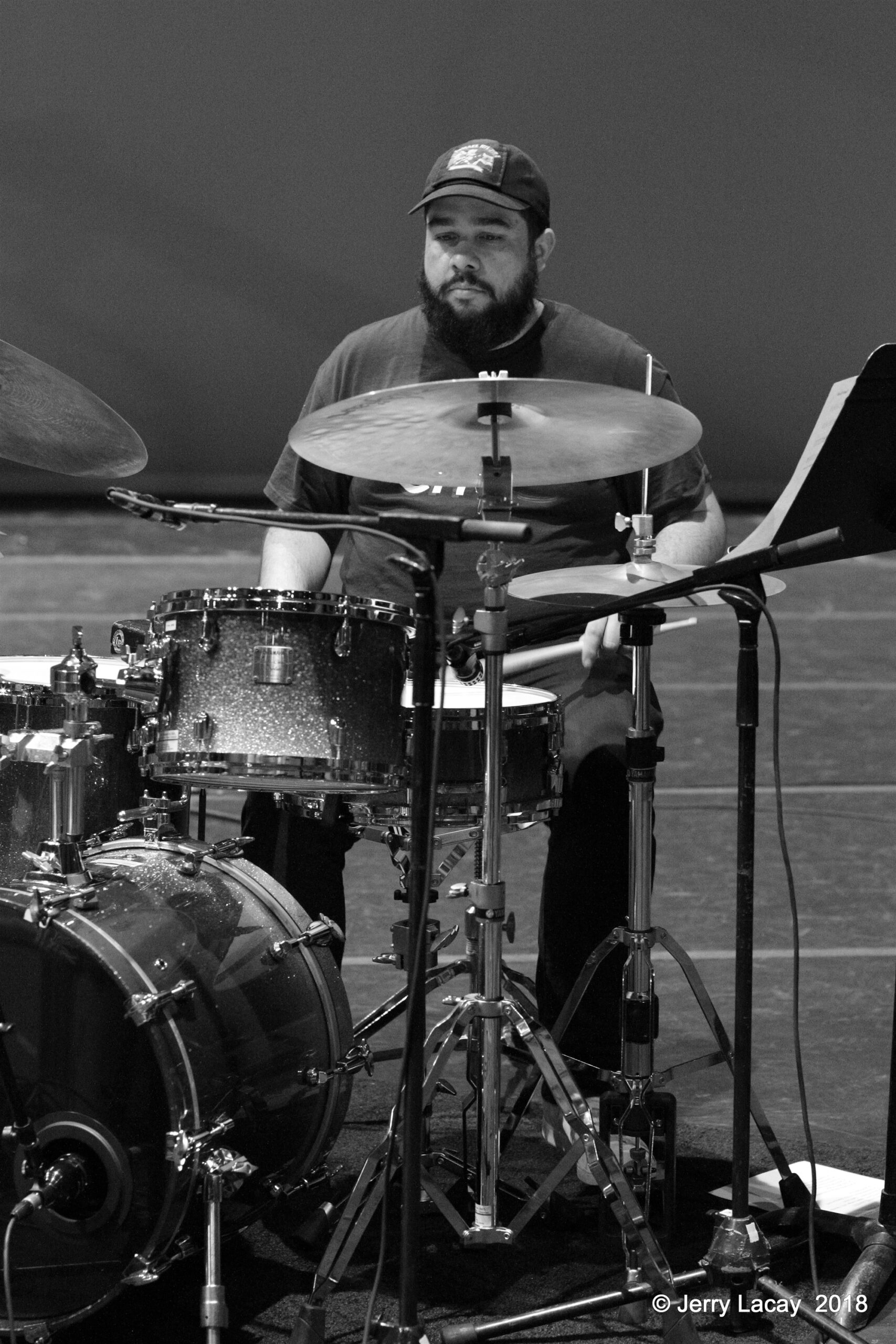 Joel E. Mateo – Drums: Joel E Mateo is a drummer and percussionist fromPuerto Rico. He began his musical studies at an early age at the Escuela Libre de Música Juan Morell Campos in Ponce, PR. He continued his music studies completing a BA in the Interamerican University in PR and then an MA at the Aaron Copland School of Music in NYC. His musical range has led him to play live and record with international artists such as Papo Vazquez, Miguel Zenon, Andy Gonzalez, The Spanish Harlem Orchestra, Tego Calderon, Elio Villafranca, Vico C. Buscabulla, La Mala Rodriguez, Chembo Corniel Quintet among many others great artists. Joel currently resides in New York City where he continues to play, record and travel with different artist and groups.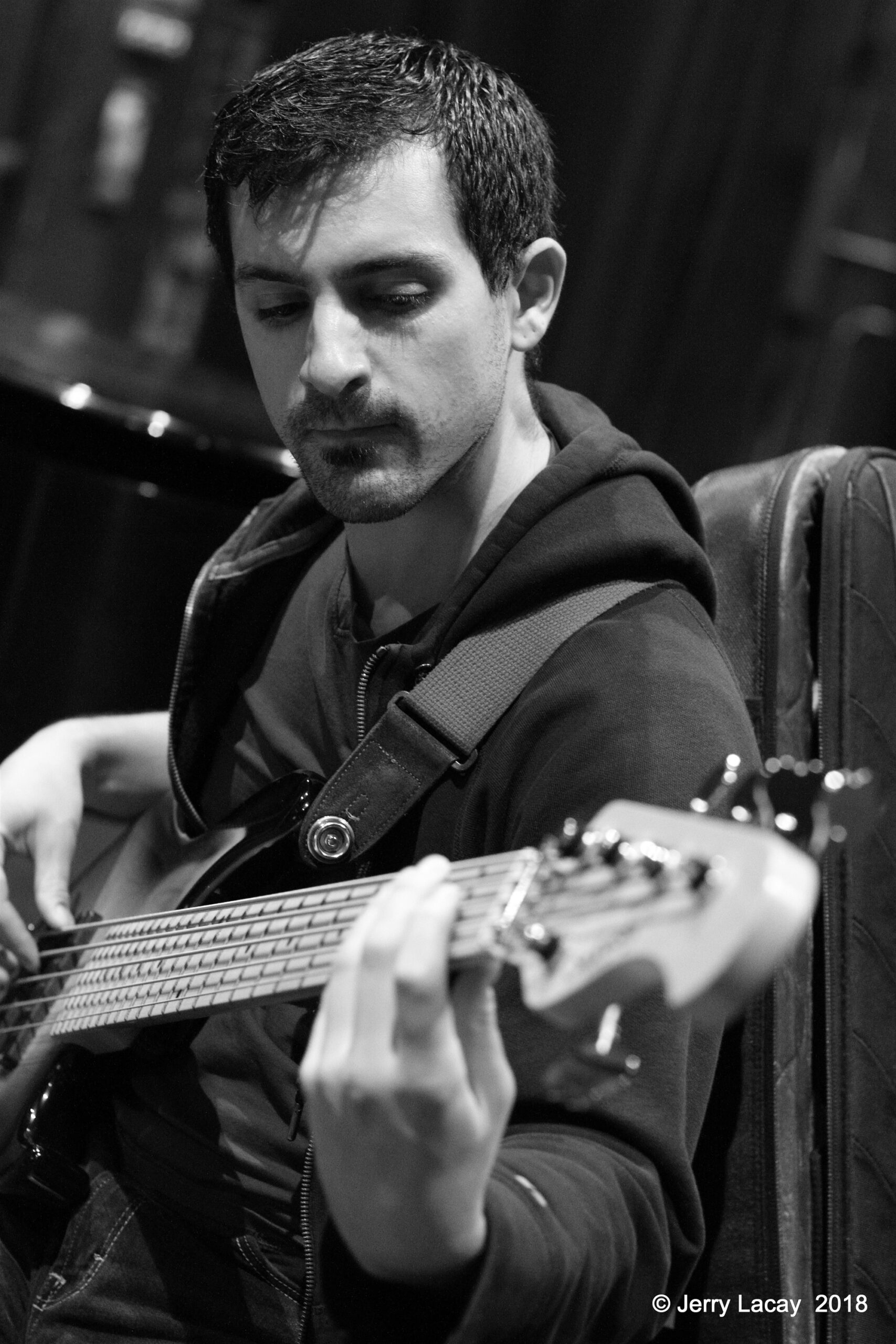 Ian Stewart – Electric Bass: Ian Stewart was born and raised in Syracuse NY, upon graduation Ian continued his studies at State University of New York at Purchase College where he received his BM in Jazz Studies in 2008. Here he would have the ability to study and take classes under Todd Coolman, John Faddis, Ray Vega, Charles Blenzig, Doug Weiss, Kermit Driscoll, Gerard Hecht, Pete Malinverni, Doug Munro and many other members of the Conservatory's esteemed faculty. Since moving to NY in the spring of 2014 Ian has had the honor of performing with Gerardo Contino, Gabriela Anders, Los Hacheros, Peliroja, Keith Ward, Bobby Sanabria, Axel Laugart, Oriente Lopez, Mike Eckroth, Buyu Ambroise, Conjunto Guantanamero, Wilson "Chembo" Corniel, Salsondria Timba and other New York based artists. In addition to performing, Ian is also a contributing writer to Timba.com where he covers the latest in concerts and album releases in the NYC area. In March of 2015, Ian released "The John Benítez Bass Method Volume 1- Freedom in the Clave: A Rhythmic Approach to Bass Playing" in collaboration with the great John Benítez.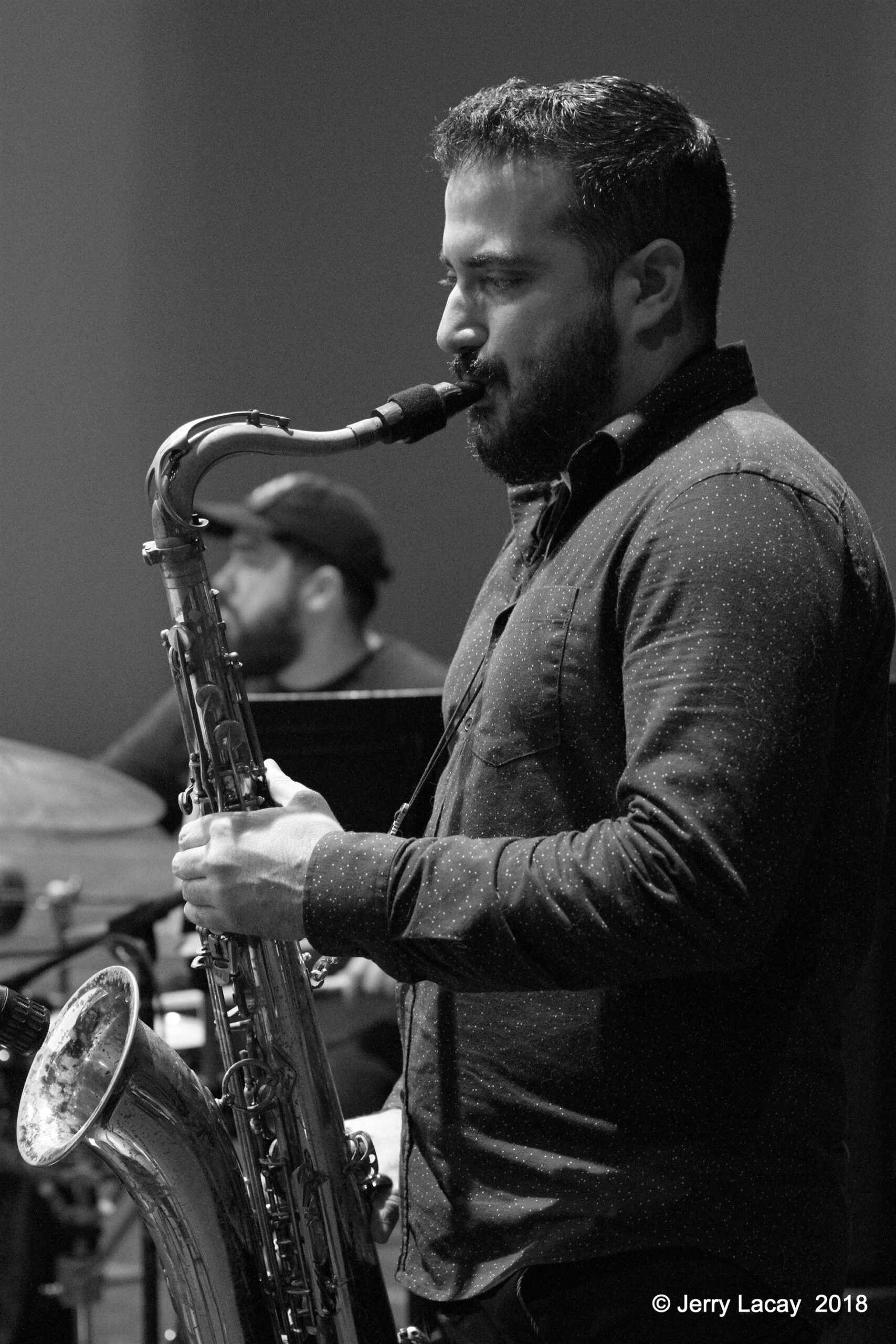 Hery Paz – Tenor Sax/ Flute: Cuban-born tenor saxophonist Hery Paz is currently working in the creative music scene in New York City, playing gigs with Francisco Mela, Gerald Canon, Joe Morris, Kris Davis, and Frank Carlberg. He has performed at Smalls and Cornelia Street Cafe, and at the Umbria Jazz Festival in Italy. "Each one of his solos is imbued with a depth of purpose, a sense of patience and a willingness to venture into the unknown. This commitment reflects the essential inner resources that were required of him during his family's harrowing emigration from Cuba and subsequent struggle here in the United States." (All About Jazz). Hery studied at The New England Conservatory class of 2014 · MM · Jazz Performance · Saxophone · Boston, Massachusetts, Florida International University class of 2010 · Bachelor in Music · Miami, Florida. Miami Dade College class of 2008 · AA Degree · Miami, Florida, Escuela Elemental De Arte Ernesto Lecuona class of 2001 · Sancti Spíritus Cuba. Hometown of Poblado Cabaiguan, Sancti Spiritus, Cuba.
About Jazz Power Initiative
Jazz Power Initiative (JPI) is a non-profit, 501 (c) (3) organization founded in 2003. Jazz Power serves thousands of New Yorkers and visitors annually – students, teachers, artists, seniors and general audiences, ages 8-80+, to promote youth development, and build more creative and inclusive communities through jazz music, theater and dance education and performance. Led by highly experienced teaching and performing artists who are award-winning jazz, theater and dance professionals, JPI offers multidisciplinary training, scholarships and performance opportunities to New York City youth, ages 8-22, from every economic and social milieu at low or no cost to families, with extended outreach to students in under-served New York City public schools in Northern Manhattan. We currently engage hundreds of students and their teachers annually, providing after-school instruction mainly in Harlem, Washington Heights and Inwood (where our offices are located) and the Bronx. Our programs include after-school youth workshops at the United Palace; our monthly Intergenerational Jazz Power Jam at the National Jazz Museum in Harlem; local community senior center workshops, and our annual Jazz Power Summer Institute at Lehman College (CUNY) for artists and educators.
About The National Jazz Museum in Harlem
The National Jazz Museum in Harlem is a thriving center for jazz that stimulates hearts and minds, and reaches out to diverse audiences to enjoy this quintessential American music. The Museum is committed to keeping jazz present and exciting in the lives of a broad range of audiences — young and old, novice and scholar, artist and patron, enthusiast and curious listener. Each year, the Museum produces and presents nearly 100 free programs in New York City, engages hundreds of professional jazz artists and reaches nearly 20,000 people from around the world.
Media Contact: Janny Gonzalez, JPI Director of Business Affairs
(917) 818-1759
info@jazzpower.org
Follow us!
Facebook: fb.com/jazzpowerinitiative
Instagram: @jazzpowerinitiative
Web: jazzpower.org