Jazz Power Initiative continues 20th Anniversary Season with "Dr. E Digs Deep, blues roots bring sweet fruits" featuring Eli "Dr. E" Yamin Jazz and Blues Band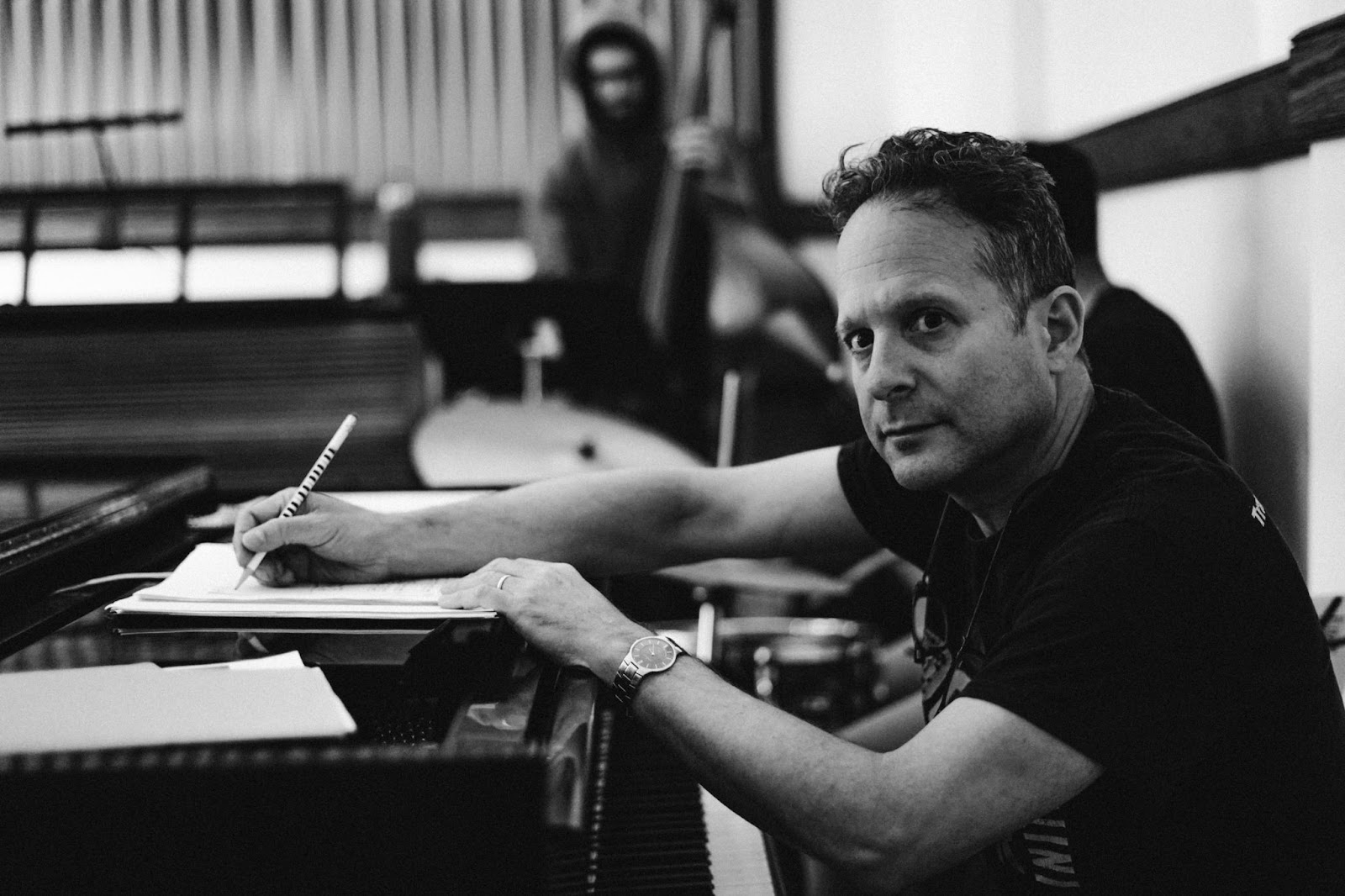 Eli Yamin is "Dr. E"
(Photo by Dasha Dare/JPI)
New York City, October 19, 2023 – Jazz Power Initiative (JPI), an Inwood-based non-profit organization founded in 2003 with the mission of transforming lives through jazz music, arts education and performance, continues its 20th anniversary season with its acclaimed Intergenerational Jazz Power Jam concert series. Featuring JPI's own Managing and Artistic Director, Eli "Dr. E" Yamin with his jazz and blues band, Jazz Power is presenting "Dr. E Digs Deep, blues roots bring sweet fruits" for November 15 and 18 performances uptown in Northern Manhattan.
Held twice-monthly, the Intergenerational Jazz Power Jam presents professional and emerging jazz artists with a different featured guest, offering audiences cross-cultural and multidisciplinary sets of new works and jazz standards; the audience is then invited to join in and "jam," bringing together artists, community members and general audiences of all ages, "to experience the power of jazz, community, and swing!"
For November, The Intergenerational Jazz Power Jam will be held Wednesday, November 15, 2023 7-9 PM at Alianza Dominicana Cultural Center and Saturday, November 18, 2023 4-6 PM at National Jazz Museum in Harlem.
This program brings to life multiple ways of leaning on the blues for support through hard times as well as jubilant celebration. "When I was three, folk blues pioneer Elizabeth Cotten's sound got into my body and has literally taken me around the world," noted Dr. E about his first blues "shero." The band performs fresh interpretations of classics by Cotten, Willie Dixon and Memphis Slim, along with Dr. E's own sly originals. Dr. E's jazz and blues band features Eli "Dr. E" Yamin, piano and vocals, with alto saxophonist Zaid Nasser, bassist Elias Bailey and drummer David F. Gibson, with special guests invited to "join in the jam."
Jazz Power Initiative first launched its Intergenerational Jazz Power Jam series in 2017 in partnership with, and presented at, the National Jazz Museum in Harlem, hosted and led by Managing and Artistic Director, pianist Eli Yamin (aka "Dr. E"). The first house band also showcased emerging jazz stars, including saxophonist Lakecia Benjamin, and bassist Endea Owens.
Over the past six years, thousands of audience members have witnessed more than 100 professional artists, with over 250 "jammers" participating. These include over the past three years our Community Artists-In-Residence: vocalist Antoinette Montague (2022); percussionist and bandleader Annette A. Aguilar (2023), and trumpeter, composer, and bandleader, Steven Oquendo (2024); as well as performances by composer/vibraphonist Nikara Warren, tuba player Bob Stewart, violinist Curtis Stewart, clarinetist Evan Christopher, vocalists Charenee Wade and Catherine Russell, saxophonists Claire Daly, Jon Irabagon and Knoel Scott, percussionist Chembo Corniel, trombonist Ray Anderson, trumpeter James Zollar, bassists Lonnie Plaxico, Melissa Slocum and Jennifer Vincent,  and dancer/choreographers Mickey Davidson, Max Pollak, and Kim Holmes, as well as students from LaGuardia High School Jazz Band directed by Kevin Blancq, and Harlem Samba directed by Dr. Dana Monteiro.
Dr. Eli Yamin, JPI's Managing and Artistic Director, also notes: "The Intergenerational Jazz Power Jam is a heap of fun for jazz fans and anybody you know who might be moved by the sound of surprise, renewed by the feeling of soul and embraced by a diverse community of people who love music!"
Intergenerational Jazz Power Jam is produced by Jazz Power Initiative, a non-profit, 501 (c) (3) organization founded in 2003, is made possible in part by the New York City Department of Cultural Affairs in partnership with the City Council; the New York State Council on the Arts with the support of the Office of the Governor and the New York State Legislature; the Howard Gilman Foundation; the Hispanic Federation; the National Jazz Museum in Harlem; Alianza Dominicana Cultural Center with Catholic Charities Archdiocese of New York and the New York City Department of Youth & Community Development; the Upper Manhattan Empowerment Zone; the Lower Manhattan Cultural Council, and individual donors.
About the artists: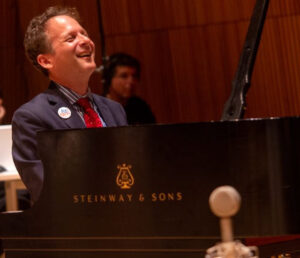 Described as "eloquently bluesy" by Time Out NY, Eli Yamin, a/k/a "Dr. E" is an imaginative and celebrated pianist, composer, singer and educator from New York. A Steinway Artist, he has performed at Carnegie Hall and Jazz at Lincoln Center in New York, The Kennedy Center in Washington DC, the White House during the Obama/Biden administration and scores of international festivals including The Newport Jazz Festival, The Lionel Hampton Jazz Festival, The Guatemala Jazz Festival and Jazz in Marciac in France. As a cultural ambassador for the U.S. Department of State, Yamin has also performed with his jazz and blues bands in Albania, Brazil, Chile, China, Greece, Guatemala, India, Mali, Montenegro, Romania, and Russia. His recordings include You Can't Buy Swing with his jazz quartet; I Feel So Glad, with his blues band; Louie's Dream, dedicated to "our jazz heroes," with New Orleans-based clarinetist Evan Christopher, Live In Burghausen with jazz icon, Illinois Jacquet and Message From Saturn, a jazz musical inspired by Sun Ra and Mary Lou Williams about the healing power of the blues that was performed in 2021 on its 20th Anniversary at JazzMobile/Summerstage in Harlem's Marcus Garvey Park. Mr. Yamin was the musical director for the 10th Anniversary tour of Duke Ellington's Sophisticated Ladies, directed by Mercedes Ellington, and continues to collaborate with Ms. Ellington as a musical director for the Duke Ellington Center for the Arts. Yamin is the co-founder, Managing and Artistic Director of The Jazz Power Initiative, a non-profit organization that transforms lives through jazz arts education and performance. Based on the belief that African American culture belongs at the center of the American music academy, Eli wrote the book, So You Want To Sing The Blues: A Guide for Performers, published by Rowman and Littlefield in collaboration with The National Association of Teachers of Singing (NATS). Yamin earned his Bachelor's in music at Rutgers, the State University of New Jersey, his masters in music education from Lehman College (CUNY) and his doctorate of musical arts from Stony Brook University (SUNY).
Zaid Nasser is a true saxophonist. Zaid Nasser, the son of Jamil (nee George Joyner), was raised on the jazz scene. He spent his youth playing saxophone with Papa Jo Jones and received lessons on jazz and life from Ffather Time. He was a regular with Lou Donaldson, George Coleman and others early on. He's been a part of the New York scene for more than twenty years. He has played with Junior Cook, Cecil Payne and Harold Mabern. Zaid spent three year with Calvin Newborn's band, playing across the south and in roadside juke shops, and developing his unique sound. Zaid spent three years working with Bill Doggett as an organist, and another three with Panama Francis with the Savoy Sultans. He has been a regular at Smalls for more than ten years. He led his own quartet, co-led a quintet alongside altoist Mike Mullins, and was a sideman on the Across 7 Street Septet. He also played the legendary Saturday late night show with Frank Hewitt. Zaid's music is authentic and organic. Zaid is a risk-taker and plays intelligent music with an unusual freedom, much like the underground legend C Sharpe. His debut recording, just recorded, is arriving in September 2007 from Smalls Records from www.smallsrecords.com.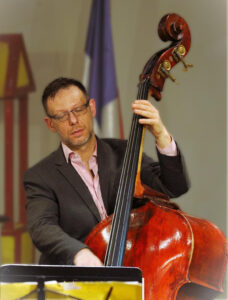 Elias Bailey is a jazz bassist who was a regular member of the Freddy Cole Quartet for over 15 years, performing with Cole, guitarist Randy Napoleon, and several drummers including Curtis Boyd and Quentin Baxter. He started playing professionally when he was fifteen years old. At age 19, Bailey joined the Tommy Dorsey Orchestra conducted by Buddy Morrow. While he was with the Dorsey Orchestra he performed with Lynn Roberts, the Four Lads, the Mills Brothers, and Arthur Duncan. He then toured with Cole nationally and internationally and appears on several of the singer's albums, including the Grammy-nominated albums Freddy Cole Sings Mr. B and My Mood Is You. He currently performs and records with René Marie.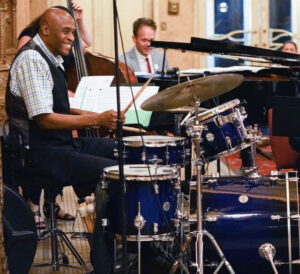 Philadelphia-born musician, David F. Gibson, toured extensively and recorded with the Count Basie Orchestra under the direction of Frank Foster. David has also performed with a host of artists and ensembles, including Joe Williams, Clark Terry, the Sun Ra Arkestra, the Odean Pope Saxophone Choir, the Diane Schuur Trio, the Duke Ellington Orchestra, and the Woody Herman Orchestra. Music critic, Chip Deffa (the New York Post) says that "Gibson's drumming is strong and fluid and as satisfying as any drummer I heard in years." Music critic, Jerry Carrier (the Philadelphia Daily News) says, "Gibson may be the ultimate band drummer." He is also featured on recordings that include Diane Schuur's Music is My Life and Harry Sweets Edison's Live at the Iridium. He is an adjunct faculty member at the New School for Jazz and Contemporary Music and earned a Bachelor of Music degree from Temple University.
Jazz Power Initiative is a community-based performing arts and educational non-profit organization, founded in 2003. Jazz Power serves thousands of New Yorkers and visitors annually – students, teachers, artists, seniors and general audiences, ages 8-80+, to build more creative and inclusive communities. Led by our Managing and Artistic Director, Eli Yamin, and highly experienced teaching artists who are award-winning jazz, theater and dance professionals, we also offer multidisciplinary training, scholarships and performance opportunities to New York City youth, ages 8-22, from every economic and social milieu at low or no cost to families. With our extended outreach to students in under-served New York City public schools in Northern Manhattan, we currently engage hundreds of students and their teachers annually, providing after-school instruction mainly in Harlem, Washington Heights and Inwood (where our offices are located) and the Bronx. Our programs include after-school youth workshops at the United Palace; our monthly Intergenerational Jazz Power Jam at the National Jazz Museum in Harlem and the Alianza Dominicana Cultural Center; local community senior center workshops, and our annual Jazz Power Institute at Lehman College (CUNY) for artists and educators.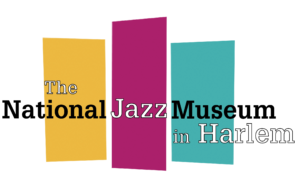 The National Jazz Museum in Harlem is a museum dedicated to preservation and celebration of the jazz history of Harlem, Manhattan, New York City. Their vision is to make jazz accessible to everyone on the planet. They are a living, evolving museum for the people, center for jazz and a place in Harlem where visitors gather to enjoy history and music, and where artists come to play, rehearse, create or drop-in, even when no one else is there, just to be in the space that so many others have passed through.
Alianza Dominicana Cultural Center is a multi-disciplinary arts center in Washington Heights that showcases contemporary and classical Dominican and Latin American art, dance and music. Intergenerational learning, transnational and cross-cultural activities are the philosophical guidepost of the Center. Lessons and workshops in computer, arts making, popular and traditional dances and Afro-Latin percussion, as well as literary conferences, music and theatrical performances are provided free of charge. In addition, the Cultural Center is home to a state-of-the-art computer lab funded by Charter Communications.
Media Contact:
Janny Gonzalez Velasquez
janny@jazzpower.org
Follow us @
Facebook: fb.com/jazzpowerinitiative
Instagram: @jazzpowerinitiative
Web: jazzpower.org
###