Jazz Power Initiative's inaugural 2022
Emerging Artists-In-Residency program is launched
with support from The TD Charitable Foundation
2022 Emerging Artists-in-Residence, Bassist Jason Clotter and vocalist/violinist Joie St. Hubert,
performing at Jazz Power's Swinging Into Fall 2021 benefit in Washington Heights (photo by Rick Toombs/JPI)
New York City, April 11, 2022 – At Jazz Power Initiative (JPI), we continue our creative celebration of Jazz Appreciation Month in April by announcing the launch of our 2022 Jazz Power Emerging Artists-in-Residency program, with awards to two outstanding jazz artists at the beginning of their careers, bassist Jason Clotter and vocalist/violinist Joie St. Hubert (above photo).
Jazz Power's Emerging Artist-in-Residency Program serves as an incubator for both creative and professional development, with multiple opportunities to advance and create multi-generational and cross-cultural community exchange through jazz music, with audiences of all kinds.
Our 2022 Emerging Artist-in-Residence program is dedicated to supporting early-stage professional performers – jazz musicians, bandleaders and vocalists – to showcase their talents throughout the year in Jazz Power Initiative's public performances and community events in the Northern Manhattan's neighborhoods of Harlem, Washington Heights, and Inwood (where our offices are located since 2003).
"I have known both of our inaugural 2022 Emerging Artists-in-Residence, Joie St. Hubert and Jason Clotter, for several years now, as young musicians and students eager to learn. Now in the early stages of their musical careers, we are dedicated to supporting their creative career and professional advancement with our first-ever artistic residencies for our 2021-2022 season." – Eli Yamin, Managing and Artistic Director
"We know art and culture can help people participate and feel connected to their local communities. But we also know too many artists, particularly emerging artists, face barriers when it comes to breaking into the sector," said Shelley Sylva, Head of U.S. Corporate Citizenship at TD Bank. "The support from the TD Charitable Foundation will help the Jazz Power Initiative create opportunities for these incredible young artists to share their new, diverse and too often underrepresented voices with the world."
In an interview at NY1 Spectrum News, Joie St. Hubert told us about his experience working with Jazz Power Initiative: "Being in Jazz Power really helped me realize that I do have my own voice, and I am able to put my own twist on music, and it doesn't have to be labeled as wrong." Jason Clotter states: "The program has helped me reach goals that I thought I would not reach so soon such as composition, performing and teaching. Without this program, I don't think I would be where I am today. I expect to continue my growth, and I'm thankful I am a part of a program that helps me do so."
Jason Clotter is a bassist from Puerto Cortes, Honduras. He immigrated to New York City as a teenager, attended Celia Cruz Bronx High School of Music and recently graduated from the State University of New York (SUNY) Purchase. Jason has been playing regularly with a wide range of jazz artists, including Samara Joy, Stacy Dillard, Joe Farnsworth, Vincent Gardner, Marquis Hill, Wallace Roney, Eric Lewis, Steve Davis, Michael Mwenso, Anthony Wonsey and many more. He has performed at venues around the world including Jazz at Lincoln Center, Smalls Jazz Club, Smoke Jazz Club, Grand Ole Opry and Reduta Jazz Club (Czech Republic). It is Jason's mission to create beautiful music and keep the music alive and going strong.
As a 2022 Jazz Power Emerging Artist-in-Residence, Jason serves as the primary bassist for our new Jazz Power Community Workshop, a 3-hour weekly workshop in piano, voice and instrumental improvisation at our studio in Inwood. Jason performs at Jazz Power Initiative's performances, including our upcoming April Intergenerational Jazz Power Jam, celebrating the centennial of Charles Mingus's birth; NYC school concerts, and our Jazz Power Institute for artists and educators at Lehman College (CUNY). Jason and his band will be featured in June 2022, at the first ever Intergenerational Jazz Power Festival in Northern Manhattan. For further professional development during his residency at Jazz Power, Jason is receiving bass lessons with the world-renowned bassist, Ron Carter.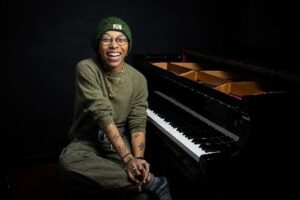 Joie St. Hubert (he/they) is a non-binary/trans NYC-based classical and jazz vocalist, violinist, and teaching artist. As a member of the Black and trans community, Joie aims to integrate music, activism, and writing as a way to inspire, encourage, and hold space for others. Joie has performed both locally at Jazz at Lincoln Center, Carnegie Hall, the Brooklyn Academy of Music (BAM), The DiMenna Center, and the United Palace, as well as internationally in Japan, Finland, Spain, Germany, and France. He started studying music at The School for Strings, and then at the pre-college program at The New School's Mannes Prep before continuing his studies at university. Since he was 12, Joie has been a part of Jazz Power Initiative, led by Eli Yamin, and is currently Jazz Power's first 2022 Emerging Artist-In-Residence.
As a 2022 Jazz Power Emerging Artist-in-Residence, Joie is as an Assistant Conductor and core member of the newly formed Jazz Power Community Singers, an intergenerational group of 5-10 vocalists who rehearse weekly for performances of classic jazz and new works during Jazz Power's public performances, including Car Free Day (upcoming on April 23rd) and our Intergenerational Jazz Power Festival in June 2022 in Washington Heights. For continued professional development, Joie is attending our weekly Jazz Power Community Workshop classes in piano, voice and musical improvisation.
Our 2022 Emerging Artist-in-Residency program is made possible thanks to support from the TD Charitable Foundation, the charitable giving arm of TD Bank, America's Most Convenient Bank®, with additional public funds from the New York State Council on the Arts with the support of the Office of the Governor and the New York State Legislature, and the New York City Department of Cultural Affairs in partnership with the City Council.
Jazz Power Initiative is a community-based, performing arts and educational non-profit organization, founded in 2003. Jazz Power serves thousands of New Yorkers and visitors annually – students, teachers, artists, seniors and general audiences, ages 8-80+, to build more creative and inclusive communities.  Led by our Managing and Artistic Director, Eli Yamin, and highly experienced teaching artists who are award-winning jazz, theater and dance professionals, JPI also offers multidisciplinary training, scholarships and performance opportunities to New York City youth, ages 8-22, from every economic and social milieu at low or no cost to families, with extended outreach to students in under-served New York City public schools in Northern Manhattan. We currently engage hundreds of students and their teachers annually, providing after-school instruction mainly in Harlem, Washington Heights and Inwood (where our offices are located) and the Bronx. Our programs include after-school youth workshops at the United Palace; our monthly Intergenerational Jazz Power Jam at the National Jazz Museum in Harlem; local community senior center workshops, and our annual Jazz Power Institute at Lehman College (CUNY) for artists and educators.
Media Contact:
(917) 818-1759
info
@jazzpower.org
Follow us @