Jazz Power Initiative in collaboration with Jazzmobile's Summerfest presents: Intergenerational Jazz Power Jam – Message From Saturn, a jazz musical about the healing power of the blues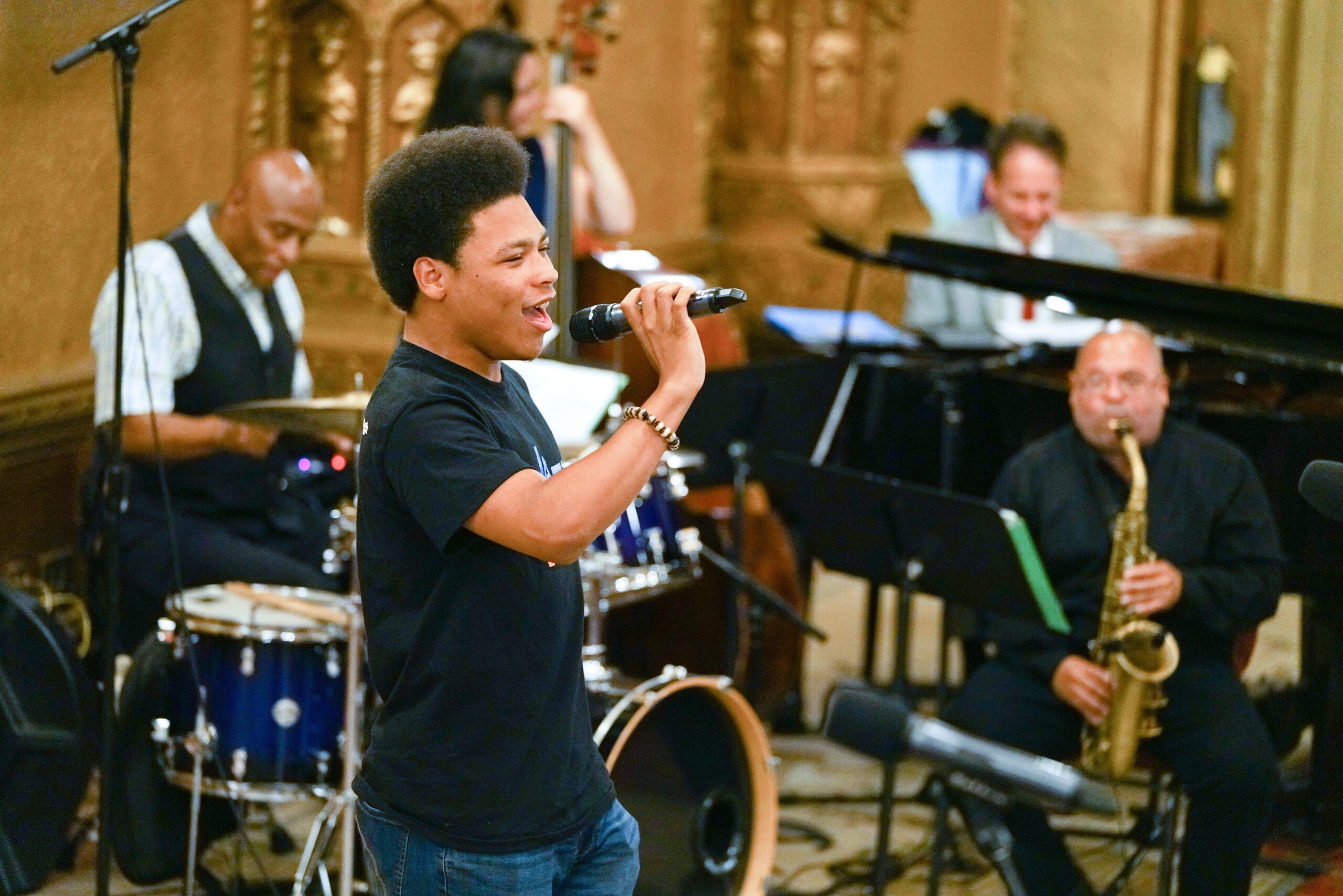 Marquise Neal of Zah! Jazz Power Youth with Jazz Power Band. Photo by Kerry Kehoe
Intergenerational Jazz Power Jam returns live in-person at Marcus Garvey Park in Harlem, on Friday, July 16 at 7 PM
New York City, July 1, 2021 – Jazz Power Initiative (JPI) concludes its summer 2021 season with our Intergenerational Jazz Power Jam on Friday, July 16, 2021 at 7pm, live and in-person at the Richard Rodgers Amphitheater in Marcus Garvey Park, Harlem, New York City. Seating at Jazzmobile Summerfest in Marcus Garvey Park is outside, free and open to the general public for audiences of all ages! Presented by Jazzmobile's Summerfest, "Message From Saturn" – our jazz musical about the healing power of the blues – concludes our Intergenerational Jazz Power Jam summer concert series, presented in partnership with the National Jazz Museum in Harlem and produced by Jazz Power Initiative, the uptown New York City, community-based non-profit organization, whose mission is to transform lives through jazz music and performance programs.
Our July Intergenerational Jazz Power Jam, Message from Saturn is directed by singer, actor, dancer and producer Ty Stephens, in a special concert presentation, introduced by Jazzmobile veteran vocalist Antoinette Montague, and Sweet Honey in the Rock co-founding members, Carol Maillard and Louise Robinson, with musical direction by Jazz Power Initiative's Managing and Artistic Director Eli Yamin. This production features Knoel Scott(saxophone), of the Sun Ra Arkestra, David F. Gibson(drums) and Jennifer Vincent(bass) of the Duke Ellington Orchestra, Tom Dempsey (guitar), Eli Yamin (piano) and Zah! Jazz Power Youth, the advanced youth vocal ensemble of Jazz Power Initiative.
Join us at Marcus Garvey Park on Friday, July 16 at 7pm, for a fun, family-friendly celebration featuring an hour-long concert, Message from Saturn, our jazz musical about the healing power of the blues, inspired by Sun Ra and Mary Lou Williams and written by Eli Yamin and Clifford Carlson: Mary, Lou and William discover evidence that the Milky Way Galaxy is dying. The Zodiac Constellations have disappeared. Given a mission by The Big Bang, the children set off with a group of singing and dancing Asteroids to the Four Elements, (Earth, Water, Air and Fire) to learn about the blues from the Zodiac Constellations represented by the musicians in the band. They return to The Night Sky and using their new knowledge play the blues and save the galaxy. The blues, it is revealed, has been the healing energy holding the universe together for billions of years.
With our thanks to our supporters
The New York City Department of Cultural Affairs with the New York City Council and Council Member Ydanis Rodriguez; the Hispanic Federation; The Miranda Family Fund; The Upper Manhattan Empowerment Zone; Lower Manhattan Cultural Council; The New York State Council for the Arts; The National Jazz Museum in Harlem; The Louis Armstrong Educational Foundation; Manhattan Borough President Gale Brewer; and Jazz Power Initiative's individual supporters.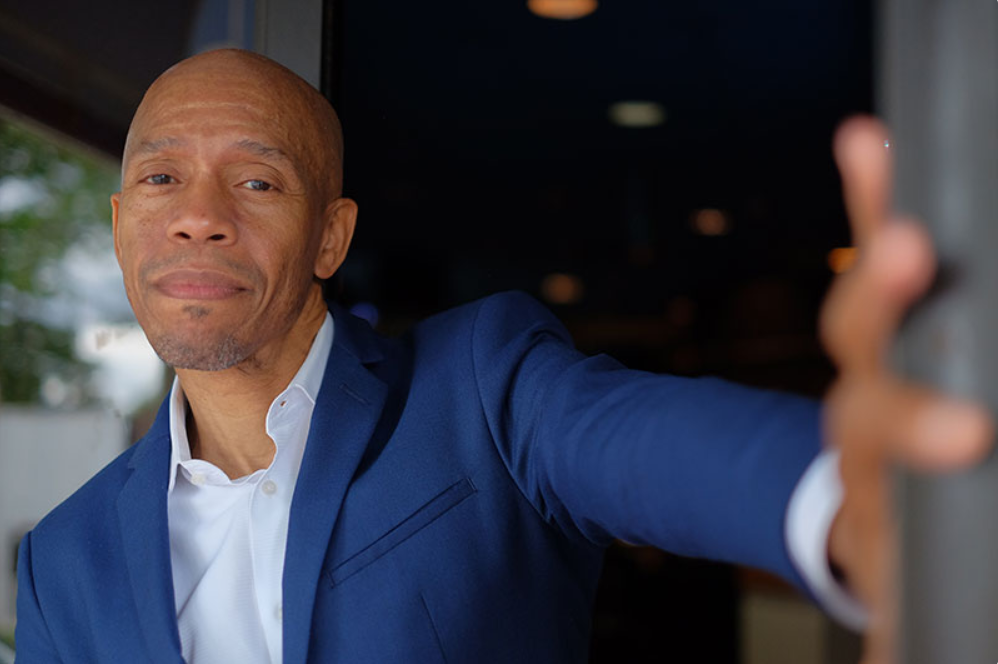 Born and raised in Philadelphia, Ty Stephens is an award-winning singer/songwriter, entertainer and recording artist (Grand Prize Winner Jazzmobile/Anheuser-Busch Solo Jazz Vocalist Competition, NYC, 2006, and First Place Winner R&B/Blues Category of the International Songwriting Competition 2002 for "Somethin' Strange"), co-writer and original cast of "From My Hometown," co-writer/production, choreographer and star of the long-running "Shades Of Harlem" revue show, and co-writer/production, choreographer and currently starring in the new off-Broadway hit "On Kentucky Avenue" (Songbirds Unlimited Productions/StepForward Entertainment). He has appeared on Broadway in the original productions of "Sophisticated Ladies" and "Marilyn, An American Fable." He has recorded with industry legends Harry Belafonte, Peggy Lee, dance music icon Dan Hartmann, disco pioneer Nile Rodgers ("Beavis & Butthead"), master drummer Baba Olatunji, renowned trumpeter Chuck Mangione, singer Gwen McCrae, Def Jam premier artist Alyson Williams, among others, and most recently, a second tour of Busan, Korea, also with the U.S. State Department. Ty's original recordings include "Aquarian Mind," "Deeper In Fantasy" and "Musichameleon", plus the brand-new "Good Medicine". The band is currently completing two new releases: a spiritual LP and a standard jazz CD.
Knoel Scott, baritone and alto saxophonist, and composer currently works both sides of the Atlantic with frequent Sun Ra Arkestra tours alternating with his own Knoel Scott Quartet ("KSQ") which has become known as a 'must-see' by audiences of London. Once known as "King Tut of Harlem," Knoel often worked at Harlem's Showman's Cafe, Smalls' Paradise, Red Rooster, Lickety Split, and La Famille during an era when jazz was played until sunrise. Important Harlem associations include Selena Clarke, Freddie Drew, Nat Willliams, Jack McDuff, Don Pullen, and John Hicks. Other collaborators range from Olu Dara, Bobby Forrester, Larry '88 keys' Keyes, Andy Razaf, Jimmy 'Preacher' Robbins, Charles Earland to Tommy Turrentine, Jerry Gonzalez, and Leon Thomas. Knoel Scott has been a member of the world-famous Sun Ra Arkestra since 1988, usually playing alto sax but occasionally tenor or his native baritone. Sun Ra encouraged Knoel to dance and sing, and his Ra-inspired versatility and agility continue to enthrall audiences.
Philadelphia-born musician, David F. Gibson, toured extensively and recorded with the Count Basie Orchestra under the direction of Frank Foster. David has also performed with a host of artists and ensembles, including Joe Williams, Clark Terry, the Sun Ra Arkestra, the Odean Pope Saxophone Choir, the Diane Schuur Trio, the Duke Ellington Orchestra, and the Woody Herman Orchestra. Music critic, Chip Deffa (the New York Post) says that "Gibson's drumming is strong and fluid and as satisfying as any drummer I heard in years." Music critic Jerry Carrier (the Philadelphia Daily News) says, "Gibson may be the ultimate band drummer." He is also featured on recordings that include Diane Schuur's Music is My Life and Harry Sweets Edison's Live at the Iridium. He is an adjunct faculty member at the New School for Jazz and Contemporary Music and earned a Bachelor of Music degree from Temple University.
Bassist and cellist Jennifer Vincent has been an active force on the jazz and Latin scenes in NYC for the past two decades. She plays, tours, and records with the likes of the Duke Ellington Orchestra, Betty Carter, Abbey Lincoln, KD Lang, Fantasia, Vanessa Williams, Patti Labelle and the collective, Cocomama. She had the good fortune to study at the New School with jazz and Latin jazz legends Ron Carter, Buster Williams, and Andy Gonzales. In 2001, she traveled to Cuba to study with Orlando "Cachaito" Lopez, bassist of the beloved Buena Vista Social Club. Jennifer is the bassist of Wynton Marsalis' Jazz At Lincoln Center All-Stars that was featured in the hit musical revue "After Midnight" on Broadway.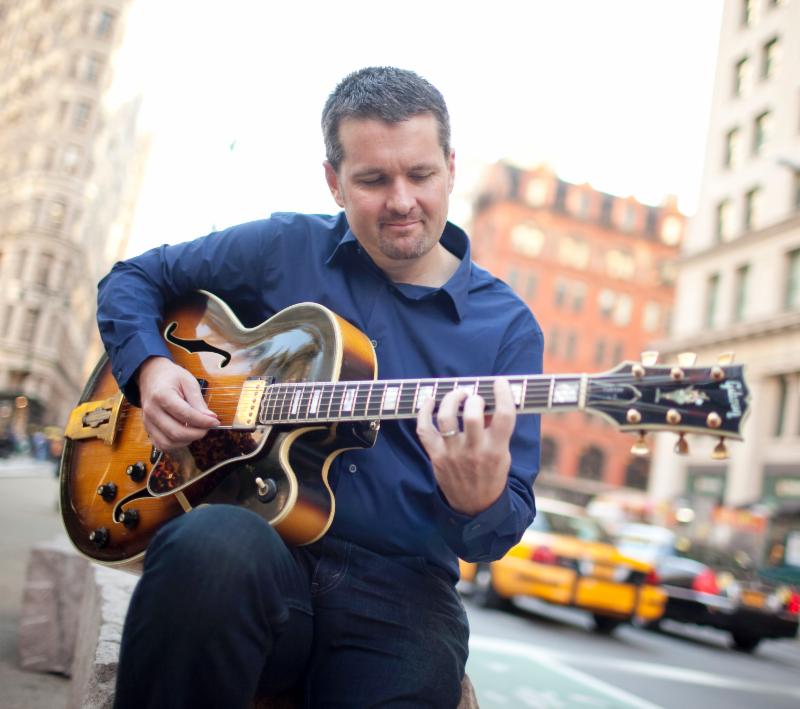 Tom Dempsey has performed and/or recorded with a virtual "Who's Who" of world renowned jazz musicians including: Wynton Marsalis, George Coleman, Kenny Barron, Roy Haynes and Bobby McFerrin. Currently he is Professor of Music at LaGuardia Community College and on the faculty at Jazz at Lincoln Center. He has authored several books on jazz guitar and filmed hundreds of instructional videos inspiring students across the globe.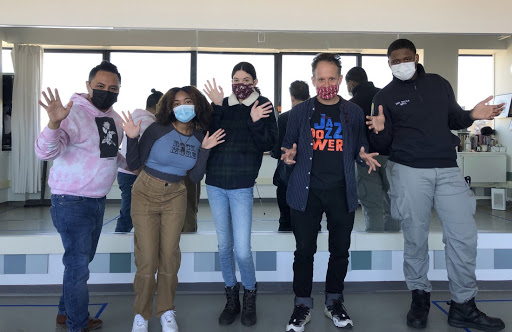 Zah! Jazz Power Youth, is Jazz Power Initiative's advanced ensemble of high school, college, and post-college youth that rehearses weekly and performs frequently throughout the year with a band of seasoned professionals. Recent performances include the Clean Energy Inaugural Ball for President Joe Biden and Vice President Kamala Harris, The United Palace in Washington Heights honoring Lin-Manuel Miranda, Jazz at Lincoln Center as well as our monthly Intergenerational Jazz Power Jam at National Jazz Museum in Harlem.
Pianist, composer, and producer Eli Yamin, has dedicated his life to performing, teaching and building community through jazz. He has performed and toured as a jazz ambassador for the United States in over 25 countries, and at Lincoln Center, Carnegie Hall, the Kennedy Center, and the White House. He co-founded and is the Managing and Artistic Director of Jazz Power Initiative, a non-profit organization dedicated to transforming lives through jazz music education and performance. His three youth-centered musicals have been performed internationally and across the U.S. including Message from Saturn, about the healing power of the blues, presented by Jazzmobile this summer. Eli's book, So You Want to Sing the Blues: A Guide For Performers was published in collaboration with the National Association of Teacher of Singing (NATS). He earned a Masters in Music Education from Lehman College (CUNY) and is working towards his Doctor of Musical Arts degree at Stony Brook, (SUNY).
About Jazz Power Initiative
Jazz Power Initiative (JPI) is a non-profit, 501 (c) (3) organization founded in 2003. Jazz Power serves over 3100 New Yorkers and visitors annually – students, teachers, artists, seniors and general audiences, ages 8-80+, to promote youth development, and build more creative and inclusive communities through jazz music, theater and dance education and performance. Led by highly experienced teaching and performing artists who are award-winning jazz, theater and dance professionals, JPI offers multidisciplinary training, scholarships and performance opportunities to New York City youth, ages 8-22, from every economic and social milieu at low or no cost to families, with extended outreach to students in under-served New York City public schools in Northern Manhattan. We currently engage hundreds of students and their teachers annually, providing after-school instruction mainly in Harlem, Washington Heights and Inwood (where our offices are located) and the Bronx. Our programs include after-school youth workshops at the United Palace; our monthly Intergenerational Jazz Power Jam at the National Jazz Museum in Harlem; local community senior center workshops, and our annual Jazz Power Summer Institute at Lehman College (CUNY) for artists and educators.
About Jazzmobile, Inc.

Jazzmobile's mission is to present, preserve, promote and propagate America's classical music, Jazz. Founded in 1964 by National Endowment for the Arts Jazz Master, pianist, Dr. Billy Taylor and philanthropist and arts administrator, Ms. Daphne Anstein, Jazzmobile is the first U.S. not-for-profit arts and cultural organization created just for Jazz. Since the beginning, Jazzmobile has been bringing high quality Jazz performances and education programs to area residents, tourists and other visitors, reaching over 4,000,000 people living or visiting New York City. Their national programs brought them to other cities in the US; and the 'Super Jazz Band' had them touring cities in Europe and Japan. Whether on the street, in a park or at a major concert hall here or abroad, Jazzmobile works in partnership with like-minded organizations to present high quality Jazz performances that enrich the culture and imbue new life into the surrounding area. Jazzmobile's workshops, master classes, lecture demonstrations, and arts enrichment programs train the next generation of Jazz vocalists and musicians, while also exposing youth to this vibrant art form. For jazz aficionados and other enthusiasts, their panel discussions increase the knowledge of our many adult followers. Jazzmobile's primary aim is to reach out to communities where Jazz was nurtured and new forms born. Jazzmobile is celebrating the 100th Birthday of Dr. Billy Taylor 2021-2022. For more information and updates: www.jazzmobile.org follow us on social media Facebook: JAZZMOBILE | Instagram: @jazzmobile | Twitter @jazzmobilenyc.
About The National Jazz Museum in Harlem
The National Jazz Museum in Harlem is a thriving center for jazz that stimulates hearts and minds, and reaches out to diverse audiences to enjoy this quintessential American music. The Museum is committed to keeping jazz present and exciting in the lives of a broad range of audiences — young and old, novice and scholar, artist and patron, enthusiast and curious listener. Each year, the Museum produces and presents nearly 100 free programs in New York City, engages hundreds of professional jazz artists and reaches nearly 20,000 people from around the world.
Media Contact: Janny Gonzalez, JPI Director of Business Affairs
(917) 818-1759
info@jazzpower.org
Follow us!
Facebook: fb.com/jazzpowerinitiative
Instagram: @jazzpowerinitiative
Web: jazzpower.org