FOR IMMEDIATE RELEASE
           
Jazz Power Institute 2021 Online Conference

Jazz Power Institute 2021 Online Conference to be held on July 7, 2021 in collaboration with Lehman College, City University of New York (CUNY)
More information and free registration
New York City, June 18, 2021 – Jazz Power Initiative (JPI), a not-for-profit organization, will be holding its seventh annual Jazz Power Institute online on July 7, 2021 in collaboration with Lehman College, City University of New York (CUNY).
Since 2015, Jazz Power Institute at Lehman College has been offering training and insights to artists and educators in teaching jazz across disciplines of music, dance, theatre, and writing. This year's theme is:
What universal lessons does jazz offer all music, dance and writing students?
There will be three separate webinars followed by an open discussion and reflection. Registration is free for all three webinars but participants must register for each individual session. All participants will be invited to attend and participate in a final discussion session at 5pm.
New York City Department of Education teachers are eligible to receive up to 5.5 CTLE credit hours for participation in Jazz Power Institute 2021.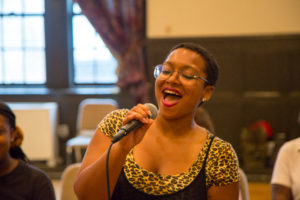 Panel One: 10:30am -12pm
Sourcing jazz for cultural relevance, social emotional learning and creative tools. 
Panelists: Anthony Branker, Iantheia Calhoun, Mick Carlon, Antoinette Montague, Catherine Russell
Facilitated by Eli Yamin
Panel Two: 12:30 – 2pm
Jazz Music Education – A Gateway for Inclusivity
Panelists: D.D. Jackson, Tammy McCann
Facilitated by Tom Dempsey
Panel Three: 3–4:30pm
Reconnecting Music and Dance – A More Holistic Jazz Pedagogy
Panelists: Junious "House" Brickhouse, Mickey Davidson, Erinn Liebhard
Facilitated by Shireen Dickson
This conference is made possible in part by the New York City Department of Cultural Affairs and Lehman College Department of Music, Multimedia, Theatre & Dance. 
About Jazz Power Initiative

---
Jazz Power Initiative (JPI) is a non-profit, 501 (c) (3) organization founded in 2003. JPI serves over 3100 New Yorkers and visitors annually – students, teachers, artists, seniors and general audiences, ages 8-80+, to promote youth development, and build more creative and inclusive communities through jazz music, theater and dance education and performance. Led by highly experienced teaching artists who are award- winning jazz, theater and dance professionals, JPI offers multidisciplinary training, scholarships and performance opportunities to New York City youth, ages 8-19, from every economic and social milieu through our "open-door" policy, with extended outreach to students in under-served New York City public schools in Upper Manhattan. We currently engage over 500 students and their teachers annually, providing after-school instruction mainly in Harlem, Washington Heights and Inwood (where our offices are located) and the Bronx. Our programs include after-school youth workshops at the United Palace in Washington Heights; our monthly INTERGENERATIONAL JAZZ JAM at the National Jazz Museum in Harlem; local community senior center workshops, and our annual summer institute at Lehman College (CUNY) for teaching artists and educators.
About Lehman College City University of New York

---
Lehman College is the City University of New York's only four-year college in the Bronx, serving the borough and surrounding region as an intellectual, economic, and cultural center. Lehman provides undergraduate and graduate studies in the liberal arts and sciences and professional education within a dynamic research environment. With a diverse student body of more than 14,000 students and more than 81,000 alumni, Lehman offers more than 90 undergraduate and graduate programs. Ranked as having the fourth highest mobility rate in the nation by the National Bureau of Economic Research and the Equality of Opportunity Project, Lehman is a proud catalyst for economic and social mobility for its students, almost half of whom are first generation college students.
Media Contact:
Janny Gonzalez, Director of Business Affairs
(917) 818-1759
email hidden; JavaScript is required