Thanksgiving message from Director of Business Affairs
Despite the challenges of this pandemic year, we are grateful for the new skills we have acquired bringing Jazz Power Initiative's Youth Education and Community Programs online. The online environment has helped us connect more deeply with individual students and families while offering a safe space for the students to express themselves and learn new skills. Thanks to ongoing collaborations with community leaders and partners, we also supported families and artists with food and internet service. Please help us continue to provide this critical support to our Uptown Manhattan community by donating to jazzpower.org/donate.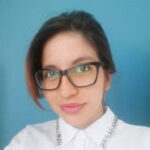 Janny Gonzalez
Director Of Business Affairs
Jazz Power Initiative Director of Business Affairs Janny Gonzalez was born in Venezuela and studied Chemical Engineering at the University of Los Andes, located in the city of Merida, Venezuela receiving her B.S. in Chemical Engineering degree in 2012. After launching a successful career in Process Design Engineering in Venezolana de Proyectos Integrados, C.A. (VEPICA) in Caracas, Venezuela, she migrated to the United States in 2016 due to political factors. Janny began working in the non-profit sector in 2017 at Jazz Power Initiative (JPI) in Inwood, Manhattan as a marketing, bookkeeping and operations consultant. After proving her capabilities, Janny was promoted to Director of Business Affairs in fall of 2020. Janny's responsibilities include managing the budget, technology, and fundraising activities of JPI as well as serving as a staff liaison to the Board of Directors. Janny is a singer, plays piano, is happily married and the proud mom of one child.
Jazz Power Initiative (JPI), is a non profit, 501(c)(3) organization, founded in 2003. JPI serves over 3100 New Yorkers and visitors annually – students, teachers, artists, seniors and general audiences, ages 8-80+, to promote youth development, and build more creative and inclusive communities through jazz music, theater and dance education and performance. Led by highly experienced teaching artists who are award-winning jazz, theater and dance professionals, JPI offers multidisciplinary training, scholarships and performance opportunities to New York City youth, ages 8-19, from every economic and social milieu at low or no cost to families, with extended outreach to students in under-served New York City public schools in Northern Manhattan. We currently engage over 500 students and their teachers annually, providing after-school instruction mainly in Harlem, Washington Heights and Inwood (where our offices are located) and the Bronx. Over 1000 artists and educators have received training in Jazz Power Pedagogy at our annual institute and at customized trainings for schools and organizations throughout the U.S. and abroad including Jazz at Lincoln Center, the Mississippi Arts Commission, the National Urban League, Muse Machine of Dayton, the National Endowment for the Arts, the U.S. Department of State and Fordham University – The Gabelli School of Business.
Transforming lives through jazz arts education.
Please donate here to support our youth education and community programs in jazz music, dance and theater arts: jazzpower.org/donate.

Jazz Power Initiative
5030 Broadway, Suite 657
New York, NY 10034
+1 917 818 1759

email hidden; JavaScript is required
©2017 Jazz Power Initiative, a 501(c) (3) organization. All rights reserved.