In partial fulfillment of the requirements of the Doctor of Musical Arts degree at Stony Brook University, Eli Yamin presents:
Eli Yamin: Solo Piano
Featuring music by Thelonious Monk, Scott Joplin, Charles Mingus, J. Rosamund Johnson and Eli Yamin
Managing Artistic Director, Eli Yamin, demonstrated his adaptability by performing a solo piano concert via live stream from his home in Inwood in Upper Manhattan. Over 70 audience members from around the United States joined in the virtual audience and got to meet each other in the talkback following the performance. Adaptability and community are values we live by in Jazz Power Initiative's Youth Education and Community Programs. If you missed the concert, you may view it for a limited time for viewing on our Youtube page here:
Please consider making a donation of any amount to support our Youth Education and Community Programs at jazzpower.org/donate. or by clicking the button below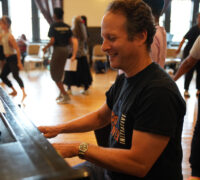 Eli Yamin
Co-founder and Managing Artistic Director of Jazz Power Initiative

Eli Yamin, an imaginative and community-oriented pianist and composer from New York, has performed with his jazz quartet and blues band as a cultural ambassador for the U.S. Department of State in Albania, Brazil, Chile, China, Greece, Guatemala, India, Mali, Montenegro, Romania, and Russia. A Steinway Artist, Yamin has also performed at Carnegie Hall and Jazz at Lincoln Center in New York, The Kennedy Center in Washington DC, and scores of international festivals including The Lionel Hampton Jazz Festival in Idaho, The St. Petersburg Jazz Festival in Russia, The Guatemala Jazz Festival in Guatemala City and Jazz in Marciac in France. He also appeared several times with his band at the Obama White House. Eli's recordings include You Can't Buy Swing with his jazz quartet; I Feel So Glad, with his blues band; Louie's Dream, dedicated to "our jazz heroes," with New Orleans-based clarinetist Evan Christopher, Live In Burghausen with jazz icon, Illinois Jacquet and Message From Saturn, a jazz musical about the healing power of the blues he co-wrote that was inspired by Sun Ra and Mary Lou Williams. Mr. Yamin was the musical director for the 10th Anniversary tour of Duke Ellington's Sophisticated Ladies, directed by Mercedes Ellington, and serves on the board of The Duke Ellington Center for the Arts. He is also the co-founder and Managing Artistic Director of The Jazz Power Initiative, a non-profit organization that transforms lives through jazz arts education and performance. The author of So You Want To Sing The Blues: A Guide for Performers, published by Rowman and Littlefield in collaboration with The National Association of Teachers of Singing (NATS), Yamin is working towards his Doctorate of Musical Arts at Stony Brook University, The State University of New York.
Jazz Power Initiative (JPI), is a non profit, 501(c)(3) organization, founded in 2003. JPI serves over 3100 New Yorkers and visitors annually – students, teachers, artists, seniors and general audiences, ages 8-80+, to promote youth development, and build more creative and inclusive communities through jazz music, theater and dance education and performance. Led by highly experienced teaching artists who are award-winning jazz, theater and dance professionals, JPI offers multidisciplinary training, scholarships and performance opportunities to New York City youth, ages 8-19, from every economic and social milieu at low or no cost to families, with extended outreach to students in under-served New York City public schools in Northern Manhattan. We currently engage over 500 students and their teachers annually, providing after-school instruction mainly in Harlem, Washington Heights and Inwood (where our offices are located) and the Bronx. Over 1000 artists and educators have received training in Jazz Power Pedagogy at our annual institute and at customized trainings for schools and organizations throughout the U.S. and abroad including Jazz at Lincoln Center, the Mississippi Arts Commission, the National Urban League, Muse Machine of Dayton, the National Endowment for the Arts, the U.S. Department of State and Fordham University – The Gabelli School of Business.
Transforming lives through jazz arts education.
Please

donate here

to support our youth education and community programs in jazz music, dance and theater arts: jazzpower.org/donate.

Jazz Power Initiative
5030 Broadway, Suite 657
New York, NY 10034
+1 917 818 1759

email hidden; JavaScript is required
©2017 Jazz Power Initiative, a 501(c) (3) organization. All rights reserved.