Jazz Power Institute 2022 returns
to Lehman College in the Bronx
live and in person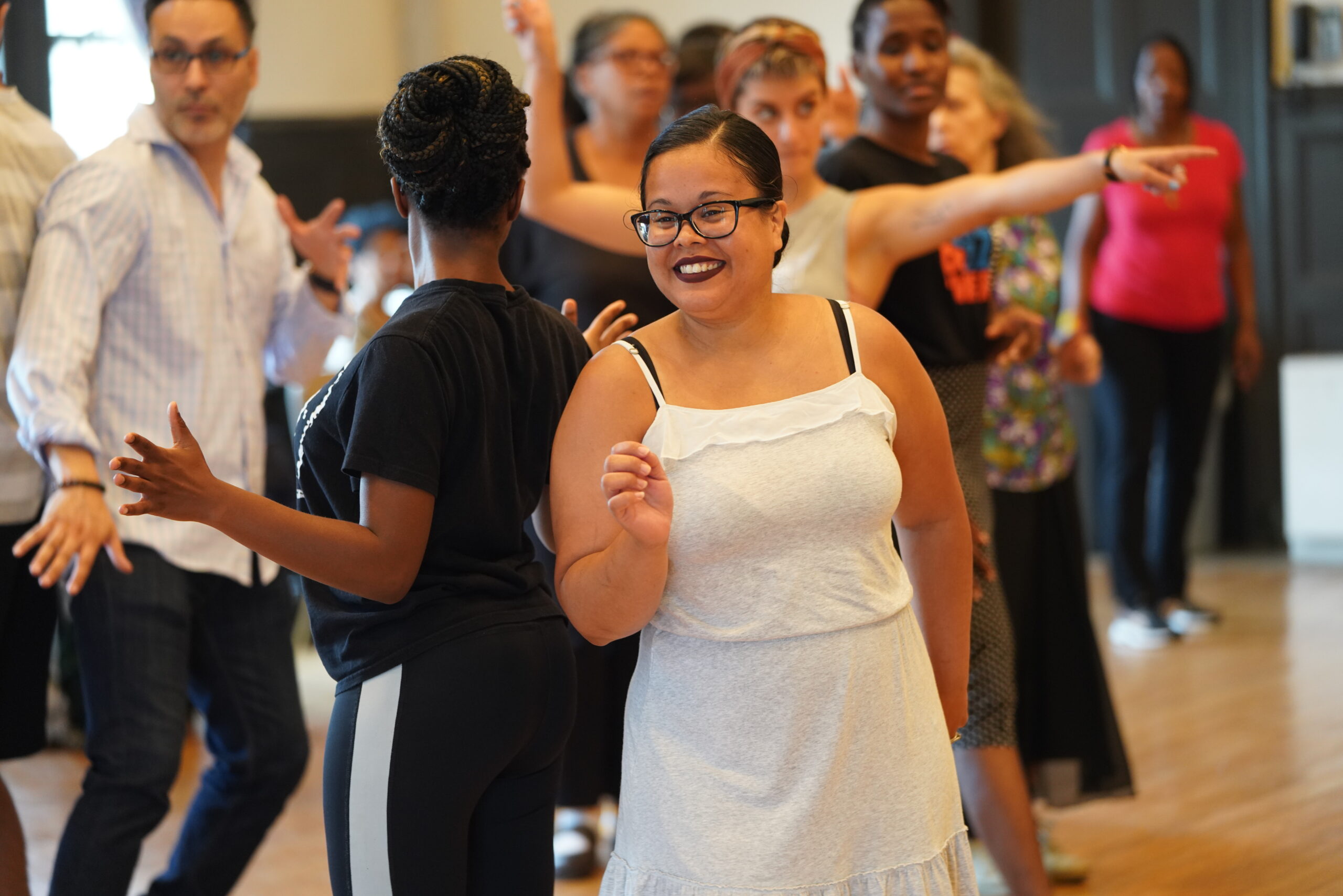 Participants at Jazz Power Institute 2019 at Lehman College, CUNY (Photo by Kerry Kehoe/JPI)
New York City, June 12, 2022 – Jazz Power Initiative's summer Jazz Power Institute for artists and educators is back live and in person at Lehman College, City University of New York, in the Bronx. Our two-day Institute will convene on Wednesday, July 6 and Thursday, July 7, 2022, from 10 AM to 5 PM at Lehman College's Music Building. Additional information and registration at no charge is available at jazzpower.org/institute2022.  
Jazz Power Institute provides methods for teaching jazz in a culturally authentic way to many different kinds of audiences. Attendees will experience workshops covering a wide range of age groups including from grades preK-12, to college students and adults learners. All workshops will focus on topics that stimulate every student to make personal connections with jazz, to carry the current relevance of jazz music as an art form well into the future.  
How can student engagement with jazz create new pathways in learning about music and the arts in general while stimulating personal growth? Jazz Power Institute 2022 will address this question in our theme, JAZZ FUTURE while providing a dynamic framework for artists and educators to build their knowledge and skill teaching jazz across the creative disciplines of music, dance and theater. Through the lens of jazz, participants will learn how to awaken deeper imaginative learning, building community and trust with their students, and how to effectively employ "jazz power tools" for students to create their own JAZZ FUTURE. 
Hands-on transformational and multidisciplinary learning experiences will be led by Dr. Eli Yamin (JPI Managing and Artistic Director), Shireen Dickson (Institute Co-chair, Okra Dance, Northwestern University), Tom Dempsey (Institute Co-Chair, LaGuardia Community College), Antoinette Montague (Jazz Power Community Artist in Residence) and guest artist Alison Crockett (Generations of Vocal Jazz). 
Participants from a wide range of experience in the field are welcome, including college students who are relatively new to teaching artist work, as well as educators and artists with a decade of experience or more. Jazz Power Institute provides a safe and challenging learning environment, where breakthroughs are made in understanding the jazz arts in a more comprehensive, personally relevant and engaging way. 
 Continuing Teacher and Leader Education (CTLE) credits are available for registered educators as requested. Register now at jazzpower.org/institute2022.  
About our featured artists:
Alison Crockett, Soul and Jazz Diva, has been in the worldwide music scene as a vocalist and educator for decades, and has created "Generations of Vocal Jazz," a program that educates and includes singers of all ages and generations in the joy of singing vocal jazz. Alison has been an award winning and prolific jazz, soul, and electronica vocalist and has been featured on dozens of recordings including King Britt in his Neo-soul creation, "When the Funk hits the Fan", the acid jazz and hip hop mash up of Us3 "An Ordinary Day in and Unusual Place", as well as two EPs and four full length records most notably the chart topping "On Becoming a Woman…" She has toured the world several times over, working and recording with multiple artists in various genres.
Alison has also spent the last two decades of her life promoting music and jazz vocal education with all ages. As a University Professor first at Temple University and then at George Washington University, she has trained jazz and pop vocalists privately and through the jazz choral ensemble, GW JiVE. Crockett is presently a visiting associate adjunct professor at Shenandoah University teaching Black American vocal styles for the masters vocal pedagogy program as well as a faculty member of The CCM Institute instructing professional singers and voice teachers about the history, singing and performing of Black American Music styles. Crockett has worked with school age children as the musical director of Highbridge Voices, writing, arranging and conducting over 250 children ages 5 – 16 from the Bronx, NY. She then served as the choral music instructor at the prestigious Fillmore Arts Center in Washington, DC for over 10 years. In her last year of teaching at Fillmore, she started to center totally on jazz choral education, exposing students to the joy of swinging and scatting and understanding the history and culture of Jazz music. This was the genus of "Generations of Vocal Jazz," the performance festival, held annually at George Washington University.
Dr. Eli Yamin is a pianist, composer, educator, founder, managing and artistic director of Jazz Power Initiative, an NYC based non-profit that transforms lives through jazz arts education and performance. He has released eight CD's featuring his compositions, published three youth-centered jazz musicals in four languages and performed at The White House, Carnegie Hall, Lincoln Center, and over 20 countries as a cultural ambassador for the U.S. Department of State. Rooted in the belief that the blues belongs front and center in the American music academy, Eli wrote a book, So You Want to Sing the Blues: A Guide For Performers, published by Rowman and Littlefield in partnership with the National Association of Teachers of Singing (NATS). He earned his doctorate in jazz piano from Stony Brook University, his master's in music education from Lehman College, is a level III certified voice teacher in Somatic Voicework ™, a voting NARAS member and a Steinway artist.
Tom Dempsey has performed and/or recorded with a virtual "Who's Who" of world-renowned jazz musicians including: Wynton Marsalis, George Coleman, Kenny Barron, Roy Haynes and Bobby McFerrin. Currently he is Professor of Music at LaGuardia Community College and on the faculty at Jazz at Lincoln Center. He has authored several books on jazz guitar and filmed hundreds of instructional videos inspiring students across the globe.

Shireen Dickson has worked in dance and arts education for over 20 years – as a performer, teaching artist, lecturer, curriculum developer, and NYC Dept of Education classroom teacher. Her performance experience spans from a teen National Tap Ensemble member to professional cheerleading for the NBA to Equity, Off-Broadway and 'experimental' and improvisational theater. She performed with and assisted award-winning choreographer Dianne McIntyre for 10 years, collaborating alongside legendary musicians such as Lester Bowie and Olu Dara, performing and teaching at such venues including the National Black Arts Festival, The Kennedy Center, Lincoln Center, The American Dance Festival, and Jacob's Pillow Dance Festival, among numerous other theaters and universities. Shireen was the founding Community Engagement Director for both Elizabeth Streb's SLAM and Dance Parade NY, and currently consults on culturally- and community-responsible arts-based projects nationwide. Since 2010, Shireen has directed OKRA Dance Company, which presents African and American diasporic dance and world rhythmic forms in schools, libraries, museums and festivals throughout the US. Shireen is a founding executive board member of the Collegium for African Diaspora Dance based at Duke University and a full-time research associate at Northwestern University managing the SLIPPAGE lab, an interdisciplinary performance research group that explores connections between performance, history, theater, and emergent technology.
Antoinette Montague (Jazz Power Community Artist in Residence), a/k/a "Jazz Woman to the Rescue," is an esteemed, award winning jazz and blues singer and entertainer, who has performed internationally as a cultural ambassador for the U.S. Department of State. Antoinette led Jazz Power Initiative's first residency at Administration for Children's Services earlier this year, has attended multiple Jazz Power Initiative Training Institutes, and is a Level III Certified Teacher of Somatic Voicework, the LoVetri Method (™). She is a WHCR radio host and educator at Jazz Power Initiative, The New School, Marymount College Manhattan, Newark School of the Arts, Music on the Inside and Jazzmobile. She is the co-producer and host of the zoom series "Music While We're Inside," in the process of developing Jazz Woman to the Rescue Radio Station, host on Heat FM radio and a member of the WBGO Community Advisory Board. Ms. Montague has mentored dozens of young jazz musicians and vocalists over the past twenty years passing on the knowledge of her experience and what she learned from her mentors Carrie Smith and Etta Jones. Her latest CD is "World Peace in the Key of Jazz," with Danny Mixon, Paul Beaudry, Winard Harper, Jay Hoggard, and King Solomon Hicks.
Jazz Power Institute 2022 is produced by Jazz Power Initiative, a non-profit, 501 (c) (3) organization founded in 2003, and is made possible by the New York City Department of Cultural Affairs in partnership with the City Council; the New York State Council on the Arts with the support of the Office of the Governor and the New York State Legislature; Lehman College City University of New York (CUNY); and our individual donors. Thank you!
Jazz Power Initiative is a community-based performing arts and educational non-profit organization, founded in 2003. Jazz Power serves thousands of New Yorkers and visitors annually – students, teachers, artists, seniors and general audiences, ages 8-80+, to build more creative and inclusive communities. Led by our Managing and Artistic Director, Eli Yamin, and highly experienced teaching artists who are award-winning jazz, theater and dance professionals, we also offer multidisciplinary training, artist residencies and performance opportunities to New York City youth, ages 8-22, from every economic and social milieu tuition-free. With our extended outreach to students in under-served New York City public schools in Northern Manhattan, we currently engage hundreds of students and their teachers annually, providing after-school instruction mainly in Harlem, Washington Heights and Inwood (where our offices are located) and the Bronx. Our programs include after-school youth workshops at the United Palace; our monthly Intergenerational Jazz Power Jam at the National Jazz Museum in Harlem; local community senior center workshops, and our annual Jazz Power Institute at Lehman College (CUNY) for artists and educators.

Event Contact:
Arlene Rodriguez Martinez
(917) 818-1759
arlene@jazzpower.org
Media Contact:
Janny Gonzalez Velasquez
janny@jazzpower.org
Follow us @
Facebook: fb.com/jazzpowerinitiative
Instagram: @jazzpowerinitiative
Web: jazzpower.org
FLYER
###