Jazz Power ON Institute
Inspirational training in cross-modal teaching methods for classroom teachers, arts specialists, and teaching artists.
This year we are excited to offer our two-day training online at no charge to participants, with support from Lehman College Department of Music, Multimedia, Theatre and Dance; the New York City Department of Cultural Affairs, and JPI's individual donors.
New York City Department of Education Teachers are eligible for 8 hours of CTLE Credit in Content and all participants will receive a certificate from Jazz Power Initiative. All content will be delivered remotely in English. Spanish translation is available upon request.
Register Now!
When?
July 7 and 8, 2020 10am-3pm

Where?
Online Conference (link will be distributed to registrants).
Cost/Registration:
There is no charge, but all participants must register in advance to attend.

What/Who?
Jazz Power Institute ON
Our online-based Institute will address the theme of adaptability; providing strategies and online tools for remotely engaging students from all backgrounds in jazz. Multi-disciplinary master classes in voice, acting, writing, dancing and African American cultural history are part of our JPI training and pedagogy.
For more information: email hidden; JavaScript is required
Register Now!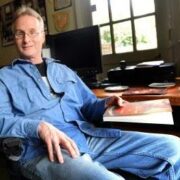 Mick Carlon
Mick Carlon's Jazz novels—RIDING ON DUKE'S TRAIN; TRAVELS WITH LOUIS and GIRL SINGER (Leapfrog Press)—are now in the curriculum of 100+ schools in the USA, Mexico, France and Spain.  A 37 year veteran public school teacher from Cape Cod, his books are introducing a new generation to the glories and stories of our music.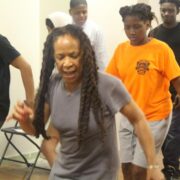 Mickey Davidson
Dancer/Choreographer 
Mickey Davidson
 won an 
Audelco
 award for choreography of "For Colored Girls Who Considered Suicide When the Rainbow Is 
Enuf
" directed by 
Ntozake
Shange
. She joined Dianne McIntyre's ground breaking "Sounds In Motion" in 1975 and danced with the company for eight years. She has worked closely with jazz artists Sun Ra, Cecil Taylor, the World Saxophone Quartet and was mentored by original Savoy Ballroom dancers Frankie Manning and Norma Miller. A beloved New York veteran of arts education, Ms. Davidson has an extensive background in African American dance styles and led the African American Dance program at Wesleyan University for 17 years.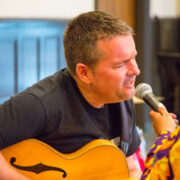 Tom Dempsey
Tom Dempsey has performed and/or recorded with a virtual "Who's Who" of world renowned jazz musicians including: Wynton Marsalis, George Coleman, Kenny Barron, Roy Haynes and Bobby McFerrin. Currently he is Professor of Music at LaGuardia Community College and on the faculty at Jazz at Lincoln Center. He has authored several books on jazz guitar and filmed hundreds of instructional videos inspiring students across the globe.
Shireen Dickson
Shireen Dickson has been Jazz Power Initiative/The Jazz Drama Program choreographer-in-residence since the year 2000. She has worked in dance and arts education for over 20 years – as a performer, teaching artist, lecturer, curriculum developer, and NYC Dept of Education classroom teacher. In addition to directing the 25-year old Okra Dance Company (which presents programs featuring African American vernacular and world rhythmic and folk dances) Shireen has developed programs and presented for a diverse range of institutions including NY Dance Parade, Elizabeth Streb, Pilobolus, National Black Arts Festival, and United Federation of Teachers. Shireen is a founding member of the Collegium for African Diaspora Dance based at Duke University and directs their bi-annual international conference.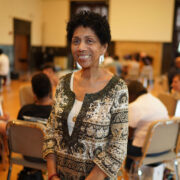 Carol Maillard
Co-founding member of Sweet Honey in the Rock

Carol Maillard is one of the founding members of the Grammy Award-winning a cappella ensemble Sweet Honey in the Rock. She was born and raised in Philadelphia, Pennsylvania and has performed in film, television, cabaret and on stage. Her theater credits on Broadway include DONT GET GOD STARTED , ITS SO NICE TO BE CIVILIZED, COMIN UPTOWN , HOME and EUBIE; off-Broadway with the Negro Ensemble Company, the New York Shakespeare Festival and at the Actors Studio and many regional theatre productions. Carol served as Conceptual and Creative producer for the 2005 documentary film SWEET HONEY IN THE ROCK: RAISE YOUR VOICE ! on the PBS series American Masters produced and directed by Stanley Nelson. The film chronicled SWEET HONEY's 30th Anniversary year and Carol also produced the accompanying soundtrack.
Antoinette Montague
Antoinette Montague
 has a love of humanity and mission to bring joy to people through music,
Antoinette has played at New York City's major clubs and concert halls including Jazz at Lincoln Center, Kitano, Dizzy's Club Coca Cola, and is a regularly featured favorite at the popular Harlem-based Jazz Mobile Concert Series.  NEA Jazz Master Jimmy Heath says, "Antoinette has the instrument, delivery and enunciation, when performing, that touches my soul."
Her latest acclaimed release is 
World Peace in the Key of Jazz
 and features her arrangements of classic songs from the Civil Rights movement.
Louise Robinson
Co-founding member of Sweet Honey in the Rock

Louise Robinson is one of the founding members of the Grammy Award-winning a cappella ensemble Sweet Honey in the Rock. She is a native New Yorker, studied concert bass for six years and attended the High School of Music and Art. A graduate of Howard University with a BFA, her professional career began at Washington, D.C.'s Arena Stage. Louise accepted Robert Hooks' invitation to become a member of the new, D.C. Black Repertory Company Acting Ensemble. It was out of this theatre company that Louise, along with Carol Maillard. Bernice Johnson Reagon, and Mie, formed the a cappella quartet, Sweet Honey In The Rock. Louise's colorful career has taken her up many paths, including performances, both on and off-Broadway, and in film and studio recording. She has also worn the producer's hat as she, along with Maillard and Smokey Ronald Stevens, produced A Sho Nuff Variety Revue, a series of performances showcasing some of New York's finest talent, including Adolph Casear, Sandra Reeves Phillips, and legendary tap dancers Gregory Hines, Avon Long, and Joe Attles.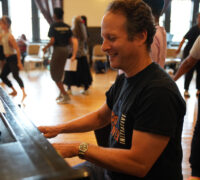 Eli Yamin
Co-founder and Managing Artistic Director of Jazz Power Initiative

Eli Yamin
is the co-founder and Managing Artistic Director of
Jazz Power Initiative.
A pianist, composer, singer, and educator, Eli has been spreading the joy of jazz through his work for 30 years including 10 years as founding director of
Jazz at Lincoln Center's Middle School Jazz Academy
. Eli
has published three jazz and blues musicals in four languages for young performers
and a book,
So You Want to Sing the Blues
,
published by Rowman and Littlefield in collaboration with the National Association of Teacher of
Singing(
NATS)
.
Jazz Power Initiative (JPI), is a non profit, 501(c)(3) organization, founded in 2003. JPI serves over 3100 New Yorkers and visitors annually – students, teachers, artists, seniors and general audiences, ages 8-80+, to promote youth development, and build more creative and inclusive communities through jazz music, theater and dance education and performance. Led by highly experienced teaching artists who are award-winning jazz, theater and dance professionals, JPI offers multidisciplinary training, scholarships and performance opportunities to New York City youth, ages 8-19, from every economic and social milieu at low or no cost to families, with extended outreach to students in under-served New York City public schools in Northern Manhattan. We currently engage over 500 students and their teachers annually, providing after-school instruction mainly in Harlem, Washington Heights and Inwood (where our offices are located) and the Bronx. Over 1000 artists and educators have received training in Jazz Power Pedagogy at our annual institute and at customized trainings for schools and organizations throughout the U.S. and abroad including Jazz at Lincoln Center, the Mississippi Arts Commission, the National Urban League, Muse Machine of Dayton, the National Endowment for the Arts, the U.S. Department of State and Fordham University – The Gabelli School of Business.
Transforming lives through jazz arts education.
Please

donate here

to support our youth education and community programs in jazz music, dance and theater arts: jazzpower.org/donate.

Jazz Power Initiative
5030 Broadway, Suite 657
New York, NY 10034
+1 917 818 1759

email hidden; JavaScript is required
©2017 Jazz Power Initiative, a 501(c) (3) organization. All rights reserved.