Jazz Power Initiative and National Jazz Museum in Harlem presents Intergenerational Jazz Jam featuring Knoel Scott. Sunday, February 09, 2-5pm
Come join us for our next Intergenerational Jazz Jam at The National Jazz Museum in Harlem. We are celebrating the centennial of Charlie Parker. Knoel Scott (Saxophone) will be our special guest. He will be joined by Bruce Edwards (Guitar), Jennifer Vincent (Bass), Dwayne "Cook" Broadnax (Drums) and Eli Yamin (Piano). Tell a friend. Tell a dancer. Tell a singer. Tell a spoken word artist. Tell an instrumentalist. See you there.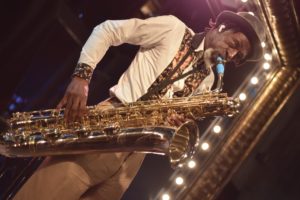 Suggested donation $10 general public, $5 artists/seniors/audience under 18
Where?
National Jazz Museum in Harlem
Ground Floor, 58 W 129th St
New York, NY 10034
Engaging the Community in Jazz Arts Experiences: Intergenerational Jazz Jams is made possible in part with funding from the Upper Manhattan Empowerment Zone Development Corporation and administered by LMCC.