Jazz Power Initiative and National Jazz Museum in Harlem presents Intergenerational Jazz Jam featuring Ray Anderson. Sunday, January 12, 2-5pm
Co-hosted by Eli Yamin and special guest: Ray Anderson, trombone with Eddie Allen, trumpet, Jennifer Vincent, bass, Dwayne "Cook" Broadnax, drums and Eli Yamin, piano.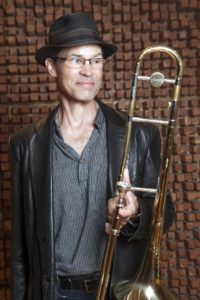 Recognized by NY NewsDay as "The most prominent trombonist of his generation." Ray Anderson has recorded over 100 of his own compositions. Anderson has had a superb career, receiving many grants and even becoming a John S. Guggenheim Fellow. The sky is the limit for Ray Anderson and we are happy to be featuring him at our first Intergenerational Jazz Jam of 2020!!!
Calling all singers, instrumentalists, dancers and spoken word artists of all ages.
Suggested donation $10 general public, $5 artists/seniors/audience under 18
National Jazz Museum in Harlem
Ground Floor, 58 W 129th St
New York, NY 10034
Engaging the Community in Jazz Arts Experiences: Intergenerational Jazz Jams is made possible in part with funding from the Upper Manhattan Empowerment Zone Development Corporation and administered by LMCC.