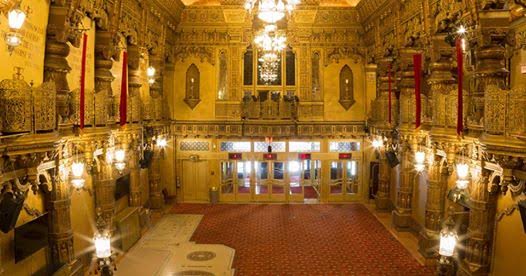 November​ ​21,​ ​2017 To:​ ​Listings/Critics/Features/Education​ ​Writers
FOR​ ​IMMEDIATE​ ​RELEASE From:​ ​Jazz​ ​Power​ ​Initiative www.jazzpower.org Contact:​ ​Aasha​ ​Collins,​ ​email hidden; JavaScript is required​,​ ​917-818-1759
The Jazz​ ​Power​ ​Initiative,​ ​a nonprofit organization that transforms lives through jazz arts education is moving its youth programs to the historic United​ ​Palace​ ​Cultural​ ​Theatre,​ located at​ ​Broadway and 175th Street in Washington Heights, beginning with a Jazz​ ​Power​ ​Youth​ ​Master​ ​Class​ in voice and dance on Tuesday, December​ ​12​ ​from​ ​4:30pm-7pm.​ ​In this free master class, choreographer Mickey​ ​Davidson​ and jazz musician Eli​ ​Yamin​, introduce young performers ages 11-20 to blues and science-based voice and movement techniques as well as a song from Holding​ ​the​ ​Torch​ ​For​ ​Liberty​, the Jazz Power musical about the fight for women's suffrage. Students who successfully complete at least one Jazz Power Master Class will be invited to participate in a 12-week youth training program in the spring. This master class is free, but guardians must register their youth by contacting email hidden; JavaScript is required or registering on this link.
Managing and Artistic Director Eli Yamin is a pianist, composer, singer, and educator who has been spreading the joy of jazz through his work for 30 years including 10 years as founding director of Jazz at Lincoln Center's Middle School Jazz Academy. Eli tours with his blues band and jazz quartet, has released several CD's and has performed at The White House, Carnegie Hall, Lincoln Center and over 20 countries as a cultural ambassador for the U.S. Department of State. Eli sincerely believes learning about jazz should feel as creative as playing jazz and consistently shares this experience with students of all ages. Choreographer/educator Mickey Davidson joined Dianne McIntyre's ground breaking "Sounds In Motion" in 1975 and danced with the company for eight years. She has always taught and performed for children and has an extensive background in African American dance styles. She teaches at the Louis Armstrong Jazz Camp in New Orleans and has worked closely with jazz musicians including Sun Ra and writers including Ntozake Shange. Mickey won an Audelco award for choreography of "For Colored Girls Who Considered Suicide When the Rainbow Is Enuf" directed by Ntozake Shange.
Jazz Power Initiative, formerly The Jazz Drama Program, was founded as a non-profit organization in 2003 to transform lives through jazz arts education and serves over 300 youth and 500 adults locally, nationally and internationally. Jazz Power Youth Workshop welcomes youths 11-20 years old at United Palace Cultural Theatre in Washington Heights and Intergenerational Jazz Jam Sessions at National Jazz Museum in Harlem bring together jazz singers, dancers and instrumentalists of all ages. Jazz Power Initiative's corporate training program Syncopated Leadership is a collaboration with Jazz at Lincoln Center and Summer Jazz Arts Institute for teachers and teaching artists is held jointly with Lehman College in the Bronx and LaGuardia Community College in Queens. Jazz Power Musicals Message From Saturn, Nora's Ark and Holding the Torch For Liberty have been performed in fourteen states and in four languages in five countries.
The United Palace of Cultural Arts (UPCA) is an independent 501(c)(3) nonprofit founded in 2012 as an arts and cultural center at the United Palace, a transformational organization and venue that fuses culture, spirituality, and entertainment in Manhattan's 4th largest theatre. UPCA is dedicated to strengthening the mind and spirit through creative expression and play.
www.jazzpower.org Contact:​ ​Aasha​ ​Collins,​ ​email hidden; JavaScript is required​,​ ​917-818-1759